Class Information
Class Level: All levels
Age Requirements: 18 and older
Average Class Size: 10
What you'll learn in this health class:
This perfectly balanced program will get you out of the gym and into the best shape of your life.

Bootcamp is the purest form of exercise. There are no fancy machines, only you and the environment. Bootcamp combines cardio & strength training exercises more effectively than any other workout. It is a high intensity routine that will change how you feel in just a few weeks. It is a back to the basics workout designed to push beyond your expectations. Whether you are training for a marathon or have never done a single push-up, every exercise is adjusted to match your fitness level. The result is a stronger, leaner and more balanced body.

As your body sheds the extra pounds, you will feel more relaxed and filled with energy during the day. Bootcamp is more than a workout, its the way to a happier, healthier way of life.
Refund & Cancellation Policy
No refunds. No exceptions.
Teacher: Stacy Berman
See Classes Taught by This Teacher »
Stacy Berman began teaching Boot Camp long before she even realized. Growing up in the Bronx, she swung from Monkey Bars, hopped fences, skipped rope and rode her bike for hours. In no time, her love of sports became evident and Stacy obtained a degree in health education and psychology. She went to work for a major health club chain in NYC and in typical Stacy fashion; doing it better came naturally. Berman received her personal training certifications through the National Academy of Sports Medicine (NASM) and the American Council on Exercise (ACE). She is also certified nutrition specialist and sports fitness specialist. In 2002, she was named top trainer of the year for New York Sports and in the very short time of just three years reached Master trainer status. Stacy realized that she had mastered being the best trainer. Where was she left to go? She was at the top? Stepping outside of the box was the natural option for Berman. Stacy has been living and teaching "a better solution to fitness" for fifteen years now. Berman trains in martial arts, kickboxing, capoeira, yoga, rope jumping, running, long distance biking, sports drills and boot camp. She has a deep understanding of the body, its movements and capabilities. Stacy has come up with a very simple solution. "No gym membership required; no fancy equipment needed". Berman is a firm believer that WE are our BEST workout equipment. She tells every Boot camp participant that there is no better workout than one that includes yourself and the environment. Challenge yourself continually is what Berman lives by. Thus, Stacy's Boot Camp is a natural place for students to be guided by Stacy to become stronger both mentally and physically. Berman has been a guest on local and national TV shows, local and national magazines, local news papers and internet sites discussing outdoor fitness, fitness trends, giving healthy eating tips, and unique ways to get and stay motivated to exercise.
Price Guarantee
We promise that our prices are the same (or less) than prices on the school's website
Comprehensive
We centralize over 40,000 classes from vetted, high quality class providers
Verified Student Reviews
CourseHorse is the only place where you can read class reviews from verified students
Incredible Service
We're dedicated to supporting your learning goals every step of the way
Fast & Secure Checkout
Single-page checkout and powerful encryption make CourseHorse the place to book
We give you back 5% of every class purchase, to encourage you to keep on learning!
Start Dates (0)
Can't make these dates? Save to Wish List this class to find out first about new class dates.
Map
Questions about this class?
Get help now from a knowledgeable expert!
School: Stacy's Bootcamp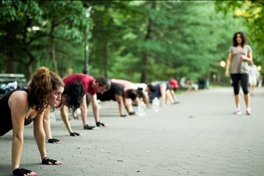 Trailblazer, Pioneer in Outdoor Training, Body-Mind Enthusiast

Stacy is a fit-preneur that has taken her fundamental beliefs of health, fitness and conscious living and created Stacy's Bootcamp. A trailblazer in outdoor fitness, she has traveled the world from NYC to India teaching people how to change...
Read more about Stacy's Bootcamp »
| | |
| --- | --- |
| CourseHorse Approved School | This school has been carefully vetted by CourseHorse and is a verified NYC educator. |
Reviews of Classes at
Stacy's Bootcamp
(
2
Reviews)
Taking this class for work? Get exclusive perks & discounts for free.