Class Information
Class Level: Intermediate
Age Requirements: 16 and older
Average Class Size: 6
What you'll learn in this wood carving class:
Learn to carve realistic likenesses in relief and 3-dimensions. Emphasis is on facial proportions.

This course will further develop your woodcarving skills and project design. Come and join the fun.

Prerequisite:
Woodcarving for Beginners.

Note: All carving materials and on-site use of tools and equipment will be provided. Free membership in the Woodcarvers' Club is available.
Refund & Cancellation Policy
No cancellation, no refund. The class must be started within 30 days upon payment.
Teacher: George Chau
See Classes Taught by This Teacher »
Sculptor, Woodcarver. Specializes in ready-made and custom woodcarvings. Awarded as Ist Placer, Queens Country Farm Museum, Annual Woodcarvers' Competition and Best Teacher for Beginners, Woodcarvers' Club of Greater New York. His recent clients include: St. Marks Church, Alley Pond Environmental Center, Reverend and Mrs. Michael Relyea, Queens Wildlife Center, Long Island Greyhound Transfer, Inc. and Black History Gallery. Georges specializations are as follows: Abstract/Conceptual, Business and Industry, Drawing, Education, Nudes, Portrait/Figurative, Religion/Myth/Fantasy, Renaissance, Sculpture, Wildlife and Animals.
Price Guarantee
We promise that our prices are the same (or less) than prices on the school's website
Comprehensive
We centralize over 40,000 classes from vetted, high quality class providers
Verified Student Reviews
CourseHorse is the only place where you can read class reviews from verified students
Incredible Service
We're dedicated to supporting your learning goals every step of the way
Fast & Secure Checkout
Single-page checkout and powerful encryption make CourseHorse the place to book
We give you back 5% of every class purchase, to encourage you to keep on learning!
Start Dates (12)
Notes:
Price includes $100 materials and preparation charge.
Teacher:
George Chau
Schedule:
Sat, Oct 04 10:00am - 12:00pm
Sat, Oct 11 10:00am - 12:00pm
Sat, Oct 18 10:00am - 12:00pm
Sat, Oct 25 10:00am - 12:00pm

Location:
Forest Hills, Queens
94-05 71st Ave
Btwn Manse & Loubet Streets
Forest Hills, New York 11375
Map
Can't make these dates? Save to Wish List this class to find out first about new class dates.
Map
Questions about this class?
Get help now from a knowledgeable expert!
School: Woodcarving by George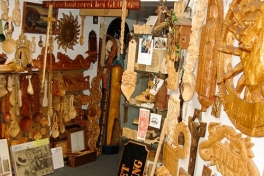 This school is the place where new woodcarvers are born everyday. It is the only woodcarving school for beginners in New York City. They specialize in ready-made and custom woodcarvings. Woodcarving and drawing courses are also available. Exhibitions and demonstrations can be arranged.

Read more about Woodcarving by George »
| | |
| --- | --- |
| CourseHorse Approved School | This school has been carefully vetted by CourseHorse and is a verified NYC educator. |
Ready to take this class?
Book Online
Or call 212-729-4088
Taking this class for work? Get exclusive perks & discounts for free.