Class Information
Class Level: All levels
Age Requirements: 21 and older
Average Class Size: 10
What you'll learn in this wine tasting class:
Taste the true traditional Spanish wine and revel in its distinct taste and spirit.

Spain might be the most exciting wine region in the world right now, teeming with new wineries, revitalized vineyards, and ancient regions awakening from their slumbers and exporting their wines for the first time. But part of the excitement stems from a genuine and disturbing uncertainty about the direction the country's wineries are heading. Will they honor the traditions of their past and create wines that reflect the natural landscape and culture, or will they succomb to the pressures of the marketplace and morph their wines to fit the "international" style of big fruited, new-oak reds andeasy-drinking whites? This tasting will harken to the wines of the great traditionalists - the Riojas of Lopez de Heredia, the centuries-old Monastrell vintners of Valencia, and the great Jerez bodegas who keep alive the most purely Spanish wine of them all: true Sherry. Taste them all with the shamelessly biased and hilarious wine business veteran Evan Spingarn (author of The Ultimate Wine Lover's Guide) and revel with him in the joys of "Old" Spain while you can - for they may not exist much longer!
Refund & Cancellation Policy
Registration for events will be confirmed by email or phone within 24 hours. Payment is due at the time of confirmation. If you need to cancel, and do so more than 14 days in advance of the event, we will refund the cost of the class, seminar, or event minus a 20% processing fee, or apply the full cost of the event towards a future event at your option. If you cancel more than 7 days in advance, you will receive full credit towards a future class. For cancellations within 7 days of the event, no refunds or credits will be given.
Price Guarantee
We promise that our prices are the same (or less) than prices on the school's website
Comprehensive
We centralize over 40,000 classes from vetted, high quality class providers
Verified Student Reviews
CourseHorse is the only place where you can read class reviews from verified students
Incredible Service
We're dedicated to supporting your learning goals every step of the way
Fast & Secure Checkout
Single-page checkout and powerful encryption make CourseHorse the place to book
We give you back 5% of every class purchase, to encourage you to keep on learning!
Start Dates (0)
Can't make these dates? Save to Wish List this class to find out first about new class dates.
Map
Questions about this class?
Get help now from a knowledgeable expert!
School: Maslow 6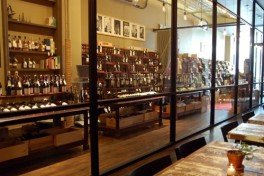 Maslow 6 is not your everyday wineshop. We are about all the different aspects of wine. The enjoyment that comes from discovering a new producer that you adore, to learning about a new wine region of the world and - the fun part - how to really taste.

Maslow 6 brings together people who share a love...
| | |
| --- | --- |
| CourseHorse Approved School | This school has been carefully vetted by CourseHorse and is a verified NYC educator. |
Reviews of Classes at
Maslow 6
(
4
Reviews)
Taking this class for work? Get exclusive perks & discounts for free.