Class Information
Class Level: Beginner
Age Requirements: 21 and older
Average Class Size: 10
What you'll learn in this wine tasting class:
This lecture will explain what the main regions are all about, what wines are found in each one, and how to read their labels.

Everyone is fascinated with Italian wine - and why shouldn't they be? It's the one country that has, by far, the most dynamic variation of grapes & styles. It also has one of the richest histories of wine-making. But because of this, it is also very confusing. A focus on and tasting of 7 red wines will enlighten. There's so much more out there than just Chianti.

Class fees cover the cost of glassware and printed materials.
Refund & Cancellation Policy
All sales for Classes or Tasting Events are final; Vouchers, tickets, website reservations, in-store purchased reservations, or any other method of purchase for Class or Event reservations & products are forfeited unless purchaser contacts Vino-Versity by phone or email in no less than 48 hours of reservation date. In this case, Vino-Versity may be able to give a credit for the purchased value toward a transfer into another Class or Tasting Event.
Teacher: Aaron Epstein
See Classes Taught by This Teacher »
Aaron Epstein has been passionate about wine since before he could legally drink it. As a student of languages, his love of the grape was born in Spain, and fermented during a year living in Bologna, Italy. It has since led him around the world to work wine jobs in almost every aspect of the industry, before bringing him back home to New York City, where he now sells some of Italy's finest wines as a representative of boutique importer/distributor Omni Wines (an Italian wine specialty company.) Aaron is fluent in Italian, has been a wine consultant professional for over 10 years, and is an industry expert in Italian wines. He is proud to be part of Vino-Versity, and excited to share his experiences with you.
Price Guarantee
We promise that our prices are the same (or less) than prices on the school's website
Comprehensive
We centralize over 40,000 classes from vetted, high quality class providers
Verified Student Reviews
CourseHorse is the only place where you can read class reviews from verified students
Incredible Service
We're dedicated to supporting your learning goals every step of the way
Fast & Secure Checkout
Single-page checkout and powerful encryption make CourseHorse the place to book
We give you back 5% of every class purchase, to encourage you to keep on learning!
Start Dates (0)
Can't make these dates? Save to Wish List this class to find out first about new class dates.
Map
Questions about this class?
Get help now from a knowledgeable expert!
School: Vino-Versity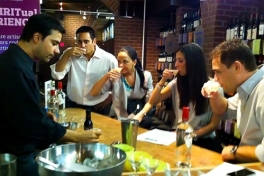 Vino-Versity: Wine Sense for the Wine Dense!
Vino-Versity is the answer to everyone's question: "Where can I learn about wine?"

Vino-Versity is first a progressive retail store, where "wines are sold within an aesthetic that looks like a Mac computer store which has crashed into a wood & brick...
Read more about Vino-Versity »
| | |
| --- | --- |
| CourseHorse Approved School | This school has been carefully vetted by CourseHorse and is a verified NYC educator. |
Taking this class for work? Get exclusive perks & discounts for free.