Class Information
Class Level: Beginner
Age Requirements: 18 and older
Average Class Size: 10
What you'll learn in this wax carving class:
This class will explore a wide range of sculptural shapes, surface textures, and hollow forms. Wax carving techniques using both hand tools and the flex shaft will be introduced for carving small objects and jewelry.

Carving wax is a wonderful technique for creating jewelry. Intricate details can be created in wax that you can't achieve in metal. We use special jeweler's wax to make what are essentially mini-sculptures, using additive and / or subtractive techniques. This means either building up wax, or carving and filing away at it to reveal a design. Wax is extremely forgiving & versatile and can be used to make rings, pendants, bracelets, earrings or any other small object.

We will discuss the different options for making molds to create multiples of your pieces. Rich textural surfaces and fluid, curving shapes can be created in wax material that can then be cast into a variety of metals to create a finished product.

We will create two projects in this class – a ring and a pendant. Students are encouraged to explore the wax as a medium as well as be challenged as designers by the instructor. Basic knowledge of the casting process will be covered – during the course students will have the opportunity to have cast at least one of their pieces in metal, and learn how to bring the cast piece to a desired finish.

We include a tour of the jewelry district and a complete list of trade references and supplier resources to provide the new student with a full introduction to the jewelry industry. Small class sizes are perfect for both beginners or those looking to refresh their wax carving skills. You don't need any jewelry knowledge to take this class – absolute beginners welcome!

Wax materials included. Detailed tool list will be sent after registration.
Refund & Cancellation Policy
Full refund (less 5% processing fee) up to two weeks before the start date will be honored. Cancellation within two weeks will receive a 50% credit for up to one year that can be used towards future classes. Cancellation within one week is non-refundable.
Teacher: Emilie Shapiro
See Classes Taught by This Teacher »
Emilie received her B.F.A. in Art + Design with a concentration in jewelry and metalsmithing from Syracuse University. She also studied at Alchimia, a contemporary school of jewelry in Florence, Italy with artist Peter Bauhuis. Emilie worked in the jewelry fashion industry as the production manager for companies like Pamela Love and Allforthemountain.
Price Guarantee
We promise that our prices are the same (or less) than prices on the school's website
Comprehensive
We centralize over 40,000 classes from vetted, high quality class providers
Verified Student Reviews
CourseHorse is the only place where you can read class reviews from verified students
Incredible Service
We're dedicated to supporting your learning goals every step of the way
Fast & Secure Checkout
Single-page checkout and powerful encryption make CourseHorse the place to book
We give you back 5% of every class purchase, to encourage you to keep on learning!
Start Dates (1)
| | Start Date | # of Sessions | Price | |
| --- | --- | --- | --- | --- |
| | | 7 | $450 | Book |
Teacher:
Emilie Shapiro
Schedule:
Tue, Nov 04 6:00pm - 9:00pm
Tue, Nov 11 6:00pm - 9:00pm
Tue, Nov 18 6:00pm - 9:00pm
Tue, Nov 25 6:00pm - 9:00pm
Tue, Dec 02 6:00pm - 9:00pm
Tue, Dec 09 6:00pm - 9:00pm
Tue, Dec 16 6:00pm - 9:00pm

Location:
Williamsburg, Brooklyn
457 Grand St
Btwn Keap St & Boriquen Pl
Brooklyn, New York 11211
Map
Can't make these dates? Save to Wish List this class to find out first about new class dates.
Map
Questions about this class?
Get help now from a knowledgeable expert!
School: Liloveve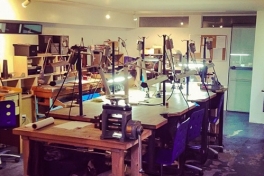 The Liloveve Gallery opened in April 2009. An inviting, warm atmosphere open to the community, the Gallery showcases local artists alongside the permanent jewelry collection. Inspired by art and love, Caroline Glemann founded Liloveve with the intention to integrate her love of art into everyday life....
| | |
| --- | --- |
| CourseHorse Approved School | This school has been carefully vetted by CourseHorse and is a verified NYC educator. |
Ready to take this class?
Book Online
Or call 212-729-4088
Taking this class for work? Get exclusive perks & discounts for free.