Class Information
Class Level: Beginner
Age Requirements: 17 and older
Average Class Size: 10
What you'll learn in this voice over class:
At Edge Studio, a recognized VO Casting, Recording, & Educational Training Center. Here's a practical way to determine if you and your voice are really marketable.

We'll tell you how your voice fits in (have a top-working pro candidly assess your potential and gain a realistic evaluation report).
You'll also discover if you fit in (learn about the 27 genres, home studios, rates, agents, and a practical look at the biz. If you appear marketable, we'll tailor a game-plan and match you with coaches based on your voice, interests, and budget).
In this class you will:
Gain a general comprehension of the industry.
Learn the 20+ genres the industry presents.
Gain a sense of direction.
Hear common mistakes that keep many aspiring voice actors from reaching their full potential.
Become able to make an informed decision about your next steps.
This class if for newcomers who are unsure how they fit in, who need to learn about all opportunities, and determine if they have potential. It's a practical and comfortable way to determine if voice over is for you. The instructors of this voice over class will tell you for real. (They are polite, but candid.)
The 3-part process:

The Investigate Voice Over Class starts with a fun, exciting 4-hour session.

Your coach will outline the entire industry and sample your voice-over performance. The voice over class candidly assesses the marketability of your voice and talent, pinpoints your most marketable genres (audiobook, animation, commercial, documentary, etc.), and provides an in-depth understanding of the skills required to be successful in voice over.
Specifically, you will be assessed on 3 attributes:
Your voice (do casting agents hire your type voice?)
Your delivery (do casting agents hire your delivery style?)
Your marketability (comfort, desire, passion, ability, excitement… is this for you?)
The voice over class is small, and has just enough participants to give you a sense of how you stand among others, and your coach how you perform in front of others.
After the voice over class, your coach prepares a detailed and candid evaluation.

This report will cover:
Voice type - Is your voice distinctive? Neutral? In need of training?
Delivery - How well do you read aloud? Can you vary your delivery?
Innate ability - Some people come by performance naturally, others need more training.
Training - How much will you need to become successful? How much related training do you already have?
How quickly did you pick things up in the voice over class?
Marketability - What genres (audiobook, animation, commercial, documentary, etc. ) are you best suited for in voice over? (In this voice over class, you'll learn that there are more than two dozen VO genres.)
Potential - Are you likely to find enough work to pursue VO full-time? Or should you consider it part- time? Or maybe you and voice performing aren't a good match.
What kind of demo(s) would you need to become successful?
Then, speak openly with their career consultant. Review your performance. Discuss opportunities.

Using this evaluation report, a Career Guidance Specialist will call you after the voice over class. At that pre-arranged time, you will receive their honest assessment of what path you should (or should not) take.
In this conversation, your Specialist will candidly review your coach's evaluation report with you, and discuss the sensible next step: Move forward or not.
Refund & Cancellation Policy
Cancellations and rescheduling require a minimum of 48-hours advance notice, by telephone (212-868-3343), and during regular business hours, Monday-Friday 9am-6pm (ET) and Saturday 11am-3pm (ET). If you cancel or reschedule with more than 48-hours notice, there is no fee. If you cancel or reschedule with less than 48-hours notice, the fees are not refunded.

Teacher: Kristin Price
See Classes Taught by This Teacher »
Voice Coach and Marketing Expert Kristin hit the stage running in her first dance recital at the age of four… then spotted the audience and ran right back off. Much to everyone's surprise, she jumped back on a few years later, and hasn't left since. As a voice coach, she loves figuring out how to make you shine, no matter what your background is. Can a musical theater pro accustomed to projecting to the back of a theater successfully "tone it down" enough for voiceover? Can an accountant set his numbers aside and learn to play with words? Do you need to approach scripts as an actor? Do you need a technical checklist? Do you just need permission to let loose and have a ball? What is your comfort zone… and can you surprise yourself by pushing outside of that? Everyone has a different style of learning. The most important thing is to enjoy what you're doing. Her philosophy of working with kids is the same. Over five years of teaching youth acting, dance and musical theater classes for The Willows Theater and the Marin Theater Company in the San Francisco Bay Area, she learned that the most important thing is to find the child's natural strengths and build from there in a positive and encouraging environment. As a voice actor, Kristin keeps busy recording commercial and narration voiceovers at her home studio and at production facilities around New York City (including Edge Studio!). The occasional on-camera commercial sneaks into the schedule as well. Recent VO work includes narrations for Disney, Crisco, Nikon, GE, Doubletree, Swarovski Crystals, H&R Block, Office Depot, Crest Spinbrush, the U.S. Army, Yale University, and lots of corporate training and e-learning programs; the videogames "Silent Hill: Downpour", "Puzzle Chronicles" and "Enigmatis"; and commercials for Vitamin Shoppe, Ortega Tacos, Vertex, Alfred Angelo wedding gowns, Hannaford grocery stores, Paradise Bakery, Kaboom! and Peter Piper Pizza. Most of all, she is proud to have recorded a series of children's audiobooks for MitSo Media which received the highest award possible: a room full of pre-schoolers sat absolutely still and listened!
Price Guarantee
We promise that our prices are the same (or less) than prices on the school's website
Comprehensive
We centralize over 40,000 classes from vetted, high quality class providers
Verified Student Reviews
CourseHorse is the only place where you can read class reviews from verified students
Incredible Service
We're dedicated to supporting your learning goals every step of the way
Fast & Secure Checkout
Single-page checkout and powerful encryption make CourseHorse the place to book
We give you back 5% of every class purchase, to encourage you to keep on learning!
Start Dates (4)
Teacher:
Kristin Price
Schedule:
Wed, Oct 08 6:00pm - 10:00pm

Location:
Midtown, Manhattan
115 West 45th Street
Floor 8
Between 6th & Broadway
New York, New York 10036
Map
Can't make these dates? Save to Wish List this class to find out first about new class dates.
Map
Questions about this class?
Get help now from a knowledgeable expert!
School: Edge Studio (Recording, Casting, School)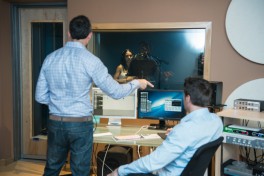 One of the most recognized VO Casting, Recording, & Educational Training Centers. A team of 30 industry-leading voice actors who "give back" training time to aspiring voice actors. Edge Studio organizes it all.

We match you with coaches based on your voice type, interests, and...
Read more about Edge Studio (Recording, Casting, School) »
| | |
| --- | --- |
| CourseHorse Approved School | This school has been carefully vetted by CourseHorse and is a verified NYC educator. |
Ready to take this class?
Book Online
Or call 212-729-4088
Taking this class for work? Get exclusive perks & discounts for free.