Class Information
Class Level: Beginner
Age Requirements: 18 and older
Average Class Size: 20
What you'll learn in this tango class:
Milonga, like vals, is a rhythm in tango music frequently played at Milongas (the social dancing event). Learn or brush up on the fundamentals of this fun and lively rhythm, and find out how dancing to it is different from tango– and how it's the same.

Never sit out another milonga tanda!

You must have completed your month of beginner classes in order to take this class.

Pre-requisite: Beginner series or higher.

Please note: A dance partner is not required for this class.
Refund & Cancellation Policy
Cancellation Policy on Private Lessons:

Please allow a 24-hour advanced notice to cancel or reschedule an appointment. If notice is not given 24 hours prior to the scheduled lesson, you will be charged for the full amount of the lesson.
Price Guarantee
We promise that our prices are the same (or less) than prices on the school's website
Comprehensive
We centralize over 40,000 classes from vetted, high quality class providers
Verified Student Reviews
CourseHorse is the only place where you can read class reviews from verified students
Incredible Service
We're dedicated to supporting your learning goals every step of the way
Fast & Secure Checkout
Single-page checkout and powerful encryption make CourseHorse the place to book
We give you back 5% of every class purchase, to encourage you to keep on learning!
Start Dates (0)
Can't make these dates? Save to Wish List this class to find out first about new class dates.
Map
Questions about this class?
Get help now from a knowledgeable expert!
School: Triangulo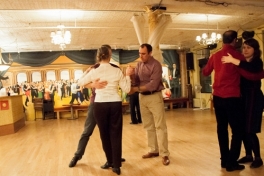 We offer a variety of group classes at a range of levels. This ensures that whatever your background may be—whether you are an absolute beginner or an experienced tanguero/a, we offer classes that will strengthen your foundation, enrich your technique, and enhance your repertoire of steps.

Our highly...
| | |
| --- | --- |
| CourseHorse Approved School | This school has been carefully vetted by CourseHorse and is a verified NYC educator. |
Reviews of Classes at
Triangulo
(
2
Reviews)
Taking this class for work? Get exclusive perks & discounts for free.