Class Information
Class Level: Beginner
Age Requirements: 18 and older
Average Class Size: 15
What you'll learn in this social media class:
Develop an established presence on one or more social networks, expanded exposure on your existing networks, and a solid understanding of how to best use social media.

Social media has become an integral part of our daily lives. If you've looked up an old roommate on Facebook or watched videos on YouTube, you've used social media. But these kinds of web-based platforms can do lots more than help manage your personal life (or increase your procrastination opportunities). Social media is a powerful tool for advancing your career.

In this class, you'll learn how to use social media tools to expand and improve your professional life. Topics include social media and web 2.0, blogs, wikis, podcasts, RSS feeds, viral video, social bookmarking, social media news releases, and other emerging web technologies.

In this class, you will learn:

Why social media platforms including Twitter, Tweetdeck, LinkedIn, Facebook, Flickr, and YouTube are indispensable for media professionals
How new media and social media technologies are being incorporated into traditional media and other industries
How to use each network for professional and personal networking
Where to look to stay on top of the latest tech trends (and what you can skip)
How to upload content and engage in online conversations using the web and mobile handheld devices
How to expand your network by updating and sharing useful content
Refund & Cancellation Policy
No refunds. If you cant make course and give at least 3 business days notice you can transfer your enrollment to a credit for a future MediaBistro class. This credit expires 1 year from the date of transfer.
Price Guarantee
We promise that our prices are the same (or less) than prices on the school's website
Comprehensive
We centralize over 40,000 classes from vetted, high quality class providers
Verified Student Reviews
CourseHorse is the only place where you can read class reviews from verified students
Incredible Service
We're dedicated to supporting your learning goals every step of the way
Fast & Secure Checkout
Single-page checkout and powerful encryption make CourseHorse the place to book
We give you back 5% of every class purchase, to encourage you to keep on learning!
Start Dates (0)
Can't make these dates? Save to Wish List this class to find out first about new class dates.
Map
Questions about this class?
Get help now from a knowledgeable expert!
School: Mediabistro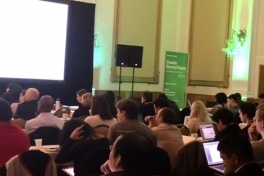 Mediabistro is dedicated to anyone who creates or works with content, or who is a non-creative professional working in a content/creative industry. That includes editors, writers, producers, graphic designers, book publishers, and others in industries including magazines, television, film, radio, newspapers,...
| | |
| --- | --- |
| CourseHorse Approved School | This school has been carefully vetted by CourseHorse and is a verified NYC educator. |
Taking this class for work? Get exclusive perks & discounts for free.