Class Information
Class Level: All levels
Age Requirements: 16 and older
Average Class Size: 10
What you'll learn in this screen printing class:
You will create handmade and photographic stencils and learn to use a vacuum table and exposure unit to shoot screens.

Explore the wide range of screenprinting techniques in this versatile medium. Silkscreen allows you to easily print hand-drawn, photographic, and digital imagery on paper, fabric, and other surfaces in a variety of colors. Topics will include screen preparation, color separation for multi-plate prints, correct color mixing, registration, screen monoprinting, editioning, and basic methods of printing onto t-shirts.
Refund & Cancellation Policy
100% refund for classes cancelled by the Printshop.
100% refund if you cancel your registration two weeks or more before the first day of a class.
50% refund if you cancel your registration one week or more before the first day of the class.
No refunds or pro-rating for missed sessions; class tuition is non-negotiable.
Price Guarantee
We promise that our prices are the same (or less) than prices on the school's website
Comprehensive
We centralize over 40,000 classes from vetted, high quality class providers
Verified Student Reviews
CourseHorse is the only place where you can read class reviews from verified students
Incredible Service
We're dedicated to supporting your learning goals every step of the way
Fast & Secure Checkout
Single-page checkout and powerful encryption make CourseHorse the place to book
We give you back 5% of every class purchase, to encourage you to keep on learning!
Start Dates (0)
Can't make these dates? Save to Wish List this class to find out first about new class dates.
Map
Questions about this class?
Get help now from a knowledgeable expert!
School: Lower East Side Printshop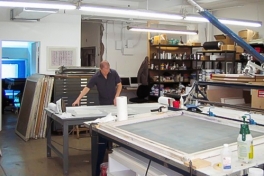 Lower East Side Printshop, founded in 1968, is a not-for-profit studio in New York City that helps contemporary artists create new artwork and advance their careers. Through the Printshop's workspace residency programs, artists receive space and time to work, stipends, technical assistance, career...
Read more about Lower East Side Printshop »
| | |
| --- | --- |
| CourseHorse Approved School | This school has been carefully vetted by CourseHorse and is a verified NYC educator. |
Reviews of Classes at
Lower East Side Printshop
(
1
Review)
Taking this class for work? Get exclusive perks & discounts for free.