Price:

Start date:
Location:
Murray Hill
290 Madison Ave 3rd floor
(Btwn E 40th & 41st Streets)
New York, New York 10017 (Map)
Share:
Facebook Twitter Pinterest Email
Important:

These classes sell out faster than we update our systems. Enroll and we'll confirm your spot.
Class Information
Class Level: Beginner
Age Requirements: 18 and older
Average Class Size: 6
What you'll learn in this project training:
In this course, students will exchange project plan data with other applications, update project plans, create visual reports, and reuse project plan information.



This course is designed for a person who has an understanding of project management concepts, who is responsible for creating and modifyinghasthe basic skills to create and modify project plans using Microsoft Project 2010, and who needs a tool to manage those project plansto use Microsoft Project 2010 to manage and customize those plans through the implementation stage of a project.




Prerequisite(s) or equivalent knowledge

Project 2010 - Level 1




Outline




Lesson 1: Exchanging Project Plan Data with Other Applications
Import Project Information
Export Project Plan Cost Data into Excel
Copy a Picture of the Project Plan Information
Lesson 2: Updating a Project Plan
Update Task Progress
Enter Overtime Work
Edit Tasks
Reschedule a Task
Filter Tasks
Set an Interim Plan
Create a Custom Table
Create a Custom Field
Create a Custom Report
Lesson 3: Manage Project Costs
Update Cost Rate Tables
Group Costs
Link Documents to a Project Plan
Lesson 4: Reporting Project Data Visually
Create a Visual Report
Customize a Visual Report
Create a Visual Report Template
Lesson 5: Reusing Project Plan Information
Create a Project Plan Template
Create a Custom View
Make Custom Views Available to Other Project Plans
Share Resources
Sync Project Information with SharePoint
Create a Master Project
Refund & Cancellation Policy
Cancellation & Refund Policies:

Please notify New Horizons six (6) or more business days in advance of your scheduled class if you need to cancel your reservation for applications classes, and eleven (11) days or more business days for technical classes.

Cancellations may be made by calling or e-mailing your Account Executive. You will receive a 100% refund if you cancel according to the terms above for applications and technical classes.

If you are a club member, you may be assessed a late fee of $50.00 for an applications class, and $200 for a technical class if you cancel late or do not show up for class.

If you are a coupon holder, you will be assessed one coupon for each class that you do not show up for.
Price Guarantee
We promise that our prices are the same (or less) than prices on the school's website
Comprehensive
We centralize over 40,000 classes from vetted, high quality class providers
Verified Student Reviews
CourseHorse is the only place where you can read class reviews from verified students
Incredible Service
We're dedicated to supporting your learning goals every step of the way
Fast & Secure Checkout
Single-page checkout and powerful encryption make CourseHorse the place to book
We give you back 5% of every class purchase, to encourage you to keep on learning!
Start Dates (0)
Can't make these dates? Save to Wish List this class to find out first about new class dates.
Map
Questions about this class?
Get help now from a knowledgeable expert!
School: New Horizons Computer Learning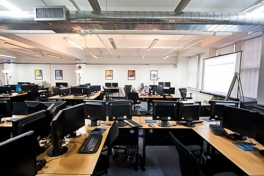 As part of the largest independent IT Training Provider, New Horizons Computer Learning Center delivers more courses than any other IT training company.

Innovative and Flexible Learning Methods

New Horizons New York City understands that not everyone is the same, and we have developed a variety of innovative...
Read more about New Horizons Computer Learning »
| | |
| --- | --- |
| CourseHorse Approved School | This school has been carefully vetted by CourseHorse and is a verified NYC educator. |
Reviews of Classes at
New Horizons Computer Learning
(
3
Reviews)
Taking this class for work? Get exclusive perks & discounts for free.