Class Information
Class Level: Beginner
Age Requirements: 18 and older
Average Class Size: 10
What you'll learn in this powerpoint class:
The PowerPoint class concentrates on the most common topics that we see in NYC businesses using on a daily basis. When you are finished with this class you will be able to create a reusable PowerPoint Template, make an easily updatable, engaging, consistent presentation, deliver a presentation without difficulty, feel comfortable with importing slides from other presentations, movies, images, smart art & word outlines, be the "go to" person for PowerPoint questions in your office, and collaborate on presentations. This class is perfect to those seeking to feel comfortable with most PowerPoint office tasks, those looking to interview for positions that require up to an advanced level of PowerPoint, and those going into the Administrative, Advertising, Marketing or Business Industry.

Course Outline:

Lesson 1: Introduction

PowerPoint's Purpose
The PowerPoint Application Workspace
Methods to Create New Presentations
Saving Files
Lesson 2: Adding Slides and Text
Title Slide
Placeholders
Adding Text, Slides and Slide Layouts
Using Bullets
Changing Line heights
Lesson 3: Slide Masters
Working with Slide Masters
Theme Slide Master vs. Layout Slide Masters
Modifying the Slide Master
Creating Custom Layout
Returning to the Slide Presentation
Lesson 4: Adding Graphics
Pictures or Images
Clip Art and Smart Art
To Adjust the Format of the Text Elements
Convert Bullets to SmartArt
Lesson 5: Charts
PowerPoint Charts
To Adjust the format of the Text Elements
Using Paste to Copy and Excel Chart in a PowerPoint slide
Using Paste Special to Link to an Excel Chart in a PowerPoint slide
Using Paste Special to Copy and Excel Chart to a slide as an image
Lesson 6: Shape Objects
Adding a shape object
Adding Text to a Shape
Modifying/Formatting a Shape
Aligning and Distributing Shapes
Connecting and Grouping Shapes
Changing the order/layer of shapes
Selection and visibility pane
Text boxes
Lesson 7: Managing Your Presentation
Spell Check
Slide Sorter View
Speaker Notes
Create Audience Handouts
Lesson 8: Delivering A Presentation
Transitions
Standard Animations and Custom Animation
Save as a Show
Package for CD
Run a slide show
Final Project:
Creating a full presentation on your favorite hobby utilizing all learned functions.
Note: Students will receive a Certificate of Completion at the end of this course and may retake the same course as many times as they want.
Refund & Cancellation Policy
No charge for substituting students at any time.
No charge to reschedule or cancel before 5 business days of class.
There is a $25 rescheduling, cancellation or retake rescheduling fee within 3-5 business days from the start of class.
No refund or rescheduling permitted within 2 business days of start of class. No refund given for cancellations or "no-shows" within 2 business days from the start of class.
If a retake is cancelled within 2 business days from the start of class, another retake may not be scheduled.
Teacher: Scott W.
See Classes Taught by This Teacher »
Scott has performed professional graphic, web, and multimedia design in New York City since 1992, and has worked as a professional instructor since 1994. As a designer, some of his former clients include: SPSS, Siegel+Gale, SECUDE, Oppenheimer Funds, The New York Public Library, The Girl Scouts of America, Calvin Klein, and Scholastic Books. As an instructor, he has taught at many professional learning centers in New York City, including Future Media Concepts, and The Chubb Institute -- where he held the position as The Department Chair of Graphic and Multimedia Design until the school was sold in 2006. He was also instrumental, during his time at Open-i Media, in the creation of DoubleClick University. Scott has an extensive list of programs he teaches including video editing. As a performing musician from the age of 13, Scott also enjoys teaching music composition and audio editing.
Price Guarantee
We promise that our prices are the same (or less) than prices on the school's website
Comprehensive
We centralize over 40,000 classes from vetted, high quality class providers
Verified Student Reviews
CourseHorse is the only place where you can read class reviews from verified students
Incredible Service
We're dedicated to supporting your learning goals every step of the way
Fast & Secure Checkout
Single-page checkout and powerful encryption make CourseHorse the place to book
We give you back 5% of every class purchase, to encourage you to keep on learning!
Start Dates (3)
Teacher:
Scott W.
Schedule:
Fri, Oct 03 10:00am - 5:00pm

Location:
Union Square, Manhattan
One Union Square West
Suite 805
At E 14th St
New York, New York 10003
Map
Can't make these dates? Save to Wish List this class to find out first about new class dates.
Map
Questions about this class?
Get help now from a knowledgeable expert!
School: NYIM Training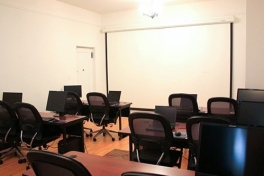 What ever your needs, group or corporate, NYIM provides you with the most practical and efficient hands-on computer training in New York City since 1998. Conveniently located on Union Square, our staff are experienced professionals with 10+ years of training experience in their field. Each of our instructors...
Read more about NYIM Training »
| | |
| --- | --- |
| CourseHorse Approved School | This school has been carefully vetted by CourseHorse and is a verified NYC educator. |
Ready to take this class?
Book Online
Or call 212-729-4088
Taking this class for work? Get exclusive perks & discounts for free.