Class Information
Class Level: All levels
Age Requirements: 18 and older
Average Class Size: 5
What you'll learn in this php training:
Graduates of the designer's track will leave with a broad introduction to programming, AMP development, and the fundamental concepts of web applications.

Our designer's track was created especially for web developers with experience in HTML, Flash, Dreamweaver, Front Page, Microsoft Word, and other graphic and layout applications. No programming background is expected; the designer's track helps experienced web designers learn to use the latest version of the very popular programming language PHP to create interactive and database driven websites.

Highlights:

A thorough workout on the concepts that are essential and common to all programming.
A fundamental understanding of what is involved in creating dynamic database driven web applications.
Intensive practice with essential elements of the PHP5 programming language.
Confidence in using PHP to to create database-driven web applications, and to carry out other common web design and development tasks.
Refund & Cancellation Policy
The student may cancel the class more than 5 business days prior to the first day of class with no penalty. Cancellations within the 5 days will be assessed a 50% penalty. Refunds will not be granted once class has begun. Failure to show for the class on a day of class will result in a full loss of the payment for the class. Students may send a substitute at any time. Substitute name and address must be provided before attending.

New York PHP reserves the right to cancel or reschedule classes at any time due to operational needs. Should a class be cancelled or rescheduled, the student is entitled to a full refund of the price of the class.
Price Guarantee
We promise that our prices are the same (or less) than prices on the school's website
Comprehensive
We centralize over 40,000 classes from vetted, high quality class providers
Verified Student Reviews
CourseHorse is the only place where you can read class reviews from verified students
Incredible Service
We're dedicated to supporting your learning goals every step of the way
Fast & Secure Checkout
Single-page checkout and powerful encryption make CourseHorse the place to book
We give you back 5% of every class purchase, to encourage you to keep on learning!
Start Dates (0)
Can't make these dates? Save to Wish List this class to find out first about new class dates.
Map
Questions about this class?
Get help now from a knowledgeable expert!
School: NY PHP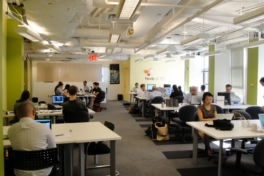 Founded in 2001, the school quickly grew to be a leader of open source communities and business solutions. After establishing amp as the platform independent technology solution stack, the school continues to support the companies and communities that depend on and develop open source.

Backed by one...
| | |
| --- | --- |
| CourseHorse Approved School | This school has been carefully vetted by CourseHorse and is a verified NYC educator. |
Taking this class for work? Get exclusive perks & discounts for free.