Price:

5 seats left

Start date:

Wed, Oct 01 9:00am

-

4:00pm

Location:
Union Square
One Union Square West Suite 805
(At E 14th St)
New York, New York 10003 (Map)
Share:
Facebook Twitter Pinterest Email
Class Information
Class Level: Advanced
Age Requirements: 18 and older
Average Class Size: 10
What you'll learn in this photoshop class:
The Advanced Photoshop for Web Design & Special Effects class concentrates on the most common topics that we see Designers in NYC using on a daily basis. When you are finished with this course you will be able to retouch images with the most powerful techniques and retouch ads and get professional results. This class is perfect to graphic designers, web designers, Photoshop retouchers, photographers, advertising designers.

Materials:

Adobe Photoshop CS6 Printed Manual
CD Rom with example files
Supplemental movie tutorials
Customized supplemental notes
Course Outline:
Special Effects
Creating special effects
Vintage look
Soft effect look
Grunge effect look
Texture effects
Ornaments
Cartoon effects
Caricatures
Using Filters for special effects
Smoke effects and brushes
Rain effects and light ray
Water effects
Light effects
Adding Light and shadows
Web
Buttons
Icons
Web buttons
Background for web pages
Type Effects
Type effects
Type grunge effect
Funky type and neon
Type with metal, gold and plastic texture
Adding 3D text
HDR
High Dynamic Range from camera Raw files
Using Photomatix for HDR
Tips & Tricks
Final Project
The final project is a composition with different effects
Note: Students will receive a Certificate of Completion at the end of this course and may retake the same course as many times as they want.
Refund & Cancellation Policy
No charge for substituting students at any time.
No charge to reschedule or cancel before 5 business days of class.
There is a $25 rescheduling, cancellation or retake rescheduling fee within 3-5 business days from the start of class.
No refund or rescheduling permitted within 2 business days of start of class. No refund given for cancellations or "no-shows" within 2 business days from the start of class.
If a retake is cancelled within 2 business days from the start of class, another retake may not be scheduled.
Teacher: Eugene T.
See Classes Taught by This Teacher »
Eugene is a world renowned Adobe Graphics Training Consultant with more than 17 years of experience in Digital Graphics. He is an Adobe Graphics Training Consultant for various advertisement agencies, newspapers, magazines, graphic design agencies, photography studios, universities, editorial agencies and print companies. Eugene has Advanced Skills in Digital Retouching, 2D and 3D Infographics, Editorial Workflow, Digital Color Management, Digital Fonts Management, Digital Photography Workflow, Prepress, Web Design and Digital Publishing. Professional Certifications include:Adobe Certified Expert and Adobe Certified Instructor in: Photoshop CS5, Illustrator CS5, InDesign CS5, Photoshop Lightroom, Acrobat 9.0, Digital Publishing Suite. In addition Eugene is an Adobe Certified Design Master and Adobe Certified Design Specialist and is part of the Adobe Beta Tester (Prerelease) team.
Price Guarantee
We promise that our prices are the same (or less) than prices on the school's website
Comprehensive
We centralize over 40,000 classes from vetted, high quality class providers
Verified Student Reviews
CourseHorse is the only place where you can read class reviews from verified students
Incredible Service
We're dedicated to supporting your learning goals every step of the way
Fast & Secure Checkout
Single-page checkout and powerful encryption make CourseHorse the place to book
We give you back 5% of every class purchase, to encourage you to keep on learning!
Start Dates (1)
| | Start Date | # of Sessions | Price | |
| --- | --- | --- | --- | --- |
| | | 1 | $299 | Book |
Teacher:
Eugene T.
Schedule:
Wed, Oct 01 9:00am - 4:00pm

Location:
Union Square, Manhattan
One Union Square West
Suite 805
At E 14th St
New York, New York 10003
Map
Can't make these dates? Save to Wish List this class to find out first about new class dates.
Map
Questions about this class?
Get help now from a knowledgeable expert!
School: NYIM Training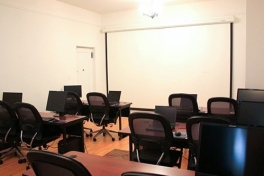 What ever your needs, group or corporate, NYIM provides you with the most practical and efficient hands-on computer training in New York City since 1998. Conveniently located on Union Square, our staff are experienced professionals with 10+ years of training experience in their field. Each of our instructors...
Read more about NYIM Training »
| | |
| --- | --- |
| CourseHorse Approved School | This school has been carefully vetted by CourseHorse and is a verified NYC educator. |
Ready to take this class?
Book Online
Or call 212-729-4088
Taking this class for work? Get exclusive perks & discounts for free.