Class Information
Class Level: All levels
Age Requirements: 18 and older
Average Class Size: 7
What you'll learn in this photoshop class:
In this course, you will learn professional techniques for obtaining consistent, predictable, high quality images in Photoshop CS5. You will learn to adopt a balanced approach, starting with system calibration through image enhancements and color correction. You will also create traditional printed effects such as duotones and spot color overlays.

You are familiar with the Photoshop tools and techniques used to design and create images. Applying the correct image and color correction processes and techniques ensures that you get the desired output while printing images for commercial purposes.


You will identify two contrasting approaches to handling color images. You will begin by calibrating your monitor and using color management profiles to control the image display to match its intended output. Next, creating a crisp line art image, eliminating dust and scratches, suppressing moiré patterns, and correcting red eye defects will help you to make that picture perfect. You will apply color by the numbers approach—using curves adjustment layer—to eliminate color casts and maximize contrast in important regions of images. Finally, you will apply techniques for improving sharpness, converting color images to grayscale, and adding spot colors to images.

Students will receive a Certificate of Completion at the end of this course and may retake the same course as many times as they want.


Upon successful completion of this course, students will be able to:
examine color workflow
calibrate the monitor and use color management profiles
control the image display to match its intended output
use the advanced image support features available in Photoshop CS5
eliminate dust and scratches, suppress moiré patterns, and correct red eye defect in images
perform image color correction
choose the settings and adjustments based on specific image
printing conditions to create high quality CMYK separations for commercial printing
sharpen an image without intensifying or accentuating noise and other defects
convert color images to grayscale and add spot colors to them
Prerequisites:

Students are recommended to take the following courses or possess equivalent knowledge: Adobe Photoshop CS5 Level 1, Adobe Photoshop CS5 Level 2
Course Curriculum
Lesson 1: Examining Color Workflow
Topic 1A: Compare RGB and CMYK Color Modes
Topic 1B: Color Workflow
Lesson 2: Setting Color Space
Topic 2A: Calibrate and Profile Your Monitor
Topic 2B: Set a Working Color Space in Photoshop
Topic 2C: Convert Images from One Color Space to Another
Topic 2D: Manage Printing and Color
Lesson 3: Using Advanced Image Support
Topic 3A: Create High Dynamic Range Images
Topic 3B: Use the Camera Raw Format
Topic 3C: Preview an Image on a Video Monitor
Lesson 4: Removing Image Defects
Topic 4A: Remove Dust and Scratches
Topic 4B: Minimize Moiré Patterns
Topic 4C: Eliminate Red Eye Defects
Lesson 5: Adjusting RGB Color
Topic 5A: Meet Color Correction Objectives
Topic 5B: Locate Highlights, Shadows, and Neutral Areas
Topic 5C: Make Automatic Color and Contrast Adjustments
Topic 5D: Make Basic Curve Adjustments
Topic 5E: Correct Memory Colors
Topic 5F: Adjust Shadows and Highlights Independently
Lesson 6: Creating CMYK Separations
Topic 6A: Adjust Color Settings for Prepress
Topic 6B: Display Calibration
Topic 6C: Adjust Out-of-Gamut Colors
Topic 6D: Color Separate Images
Topic 6E: Adjust CMYK Curves
Lesson 7: Sharpening Images
Topic 7A: Apply Unsharp Masking
Topic 7B: Sharpen an Image
Lesson 8: Working with Grayscale and Spot Colors
Topic 8A: Convert Color Images to Grayscale
Topic 8B: Create Duotones
Topic 8C: Add Spot Color to an Image
Appendix A: Capturing Images in Digital9 Format
Supplemental Lesson: Capturing Images in Digital9 Format
Topic 1A: Scan Various Image Types
Topic 1B: Choose Scanner Settings and Adjustments
Refund & Cancellation Policy
Students will receive an acknowledgement of their request within 24 hours and will get a final confirmation as to the availability of the requested retake 48-72 hours before the date of the requested class. Retake availability is dependent on the class running with an empty seat. If the student does not receive confirmation they should email at
[email protected]
or 212-729-4088 to confirm the status of their request.
Price Guarantee
We promise that our prices are the same (or less) than prices on the school's website
Comprehensive
We centralize over 40,000 classes from vetted, high quality class providers
Verified Student Reviews
CourseHorse is the only place where you can read class reviews from verified students
Incredible Service
We're dedicated to supporting your learning goals every step of the way
Fast & Secure Checkout
Single-page checkout and powerful encryption make CourseHorse the place to book
We give you back 5% of every class purchase, to encourage you to keep on learning!
Start Dates (0)
Can't make these dates? Save to Wish List this class to find out first about new class dates.
Map
Questions about this class?
Get help now from a knowledgeable expert!
School: The Career Center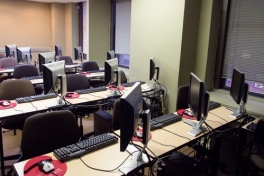 The Career Center has been advancing computer skills in the heart of New York City since 1988, with more than 100 Dual Core computers, spacious classrooms, private tutoring stations, and a friendly, professional staff.

All of our classrooms have full internet and networking accessibility, climate-control,...
Read more about The Career Center »
| | |
| --- | --- |
| CourseHorse Approved School | This school has been carefully vetted by CourseHorse and is a verified NYC educator. |
Taking this class for work? Get exclusive perks & discounts for free.