Class Information
Class Level: Beginner
Age Requirements: 18 and older
Average Class Size: 7
What you'll learn in this outlook training:
You will use Outlook to compose and send email, schedule appointments and meetings, manage contact information, schedule tasks, and create notes.


This course is intended for people who have a basic understanding of Microsoft Windows and want to know how to use Outlook to manage their time and information.
Upon successful completion of this course, students will be able to:
explore the Outlook interface, send mail, and respond to messages
compose email messages
organize email messages into folders
manage contacts and contact information
schedule appointments
schedule a meeting
manage tasks and notes
Prerequisite: Students should have a basic understanding of Windows, including how to use files and folders.
Course Curriculum for Microsoft Outlook 2010 Level 1:
Lesson 1: Getting Started with Outlook
Topic 1A: Identify the Components of the Outlook Interface
Topic 1B: Read an Email Message
Topic 1C: Reply to and Forward an Email Message
Topic 1D: Print an Email Message
Topic 1E: Delete an Email Message
Lesson 2: Composing Messages
Topic 2A: Create an Email Message
Topic 2B: Format a Message
Topic 2C: Check Spelling and Grammar
Topic 2D: Attach a File
Topic 2E: Enhance an Email Message
Topic 2F: Send an Email Message
Lesson 3: Organizing Messages
Topic 3A: Manage Email Messages
Topic 3B: Move Email Messages into Folders
Topic 3C: Open and Save an Attachment
Lesson 4: Managing Contacts
Topic 4A: Add a Contact
Topic 4B: Sort and Find Contacts
Topic 4C: Find the Geographical Location of a Contact
Topic 4D: Update Contacts
Lesson 5: Scheduling Appointments
Topic 5A: Explore the Outlook Calendar
Topic 5B: Schedule an Appointment
Topic 5C: Edit Appointments
Lesson 6: Managing Meetings in Outlook
Topic 6A: Schedule a Meeting
Topic 6B: Reply to a Meeting Request
Topic 6C: Track and Update Scheduled Meetings
Topic 6D: Print the Calendar
Lesson 7: Managing Tasks and Notes
Topic 7A: Create a Task
Topic 7B: Edit and Update a Task
Topic 7C: Create a Note
Topic 7D: Edit a Note
Refund & Cancellation Policy
Students will receive an acknowledgement of their request within 24 hours and will get a final confirmation as to the availability of the requested retake 48-72 hours before the date of the requested class. Retake availability is dependent on the class running with an empty seat. If the student does not receive confirmation they should email at
[email protected]
or 212-729-4088 to confirm the status of their request.
Price Guarantee
We promise that our prices are the same (or less) than prices on the school's website
Comprehensive
We centralize over 40,000 classes from vetted, high quality class providers
Verified Student Reviews
CourseHorse is the only place where you can read class reviews from verified students
Incredible Service
We're dedicated to supporting your learning goals every step of the way
Fast & Secure Checkout
Single-page checkout and powerful encryption make CourseHorse the place to book
We give you back 5% of every class purchase, to encourage you to keep on learning!
Start Dates (2)
Schedule:
Tue, Nov 11 9:00am - 5:00pm

Location:
Murray Hill, Manhattan
185 Madison Ave
Suite 1104
Btwn East 34th & 35th Streets
New York, New York 10016
Map
Can't make these dates? Save to Wish List this class to find out first about new class dates.
Map
Questions about this class?
Get help now from a knowledgeable expert!
School: The Career Center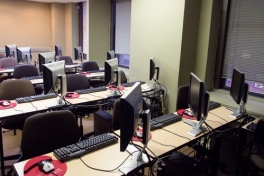 The Career Center has been advancing computer skills in the heart of New York City since 1988, with more than 100 Dual Core computers, spacious classrooms, private tutoring stations, and a friendly, professional staff.

All of our classrooms have full internet and networking accessibility, climate-control,...
Read more about The Career Center »
| | |
| --- | --- |
| CourseHorse Approved School | This school has been carefully vetted by CourseHorse and is a verified NYC educator. |
Ready to take this class?
Book Online
Or call 212-729-4088
Taking this class for work? Get exclusive perks & discounts for free.