Class Information
Class Level: Beginner
Age Requirements: 6 and older
Average Class Size: 12
What you'll learn in this knitting class:
Learn cast on, the knit, purl stitch and cast off within a warm, welcoming environment.

For advanced beginners we will knit or crochet small projects. Beginners learn to finger knit, casting on with needles, knit and cast off or the single crochet stitch.
Price Guarantee
We promise that our prices are the same (or less) than prices on the school's website
Comprehensive
We centralize over 40,000 classes from vetted, high quality class providers
Verified Student Reviews
CourseHorse is the only place where you can read class reviews from verified students
Incredible Service
We're dedicated to supporting your learning goals every step of the way
Fast & Secure Checkout
Single-page checkout and powerful encryption make CourseHorse the place to book
We give you back 5% of every class purchase, to encourage you to keep on learning!
Start Dates (0)
Can't make these dates? Save to Wish List this class to find out first about new class dates.
Map
Questions about this class?
Get help now from a knowledgeable expert!
School: Lemon Sky Fiber Arts and Crafts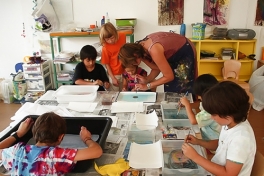 LemonSky offers arts & crafts and knitting and crocheting classes for children. In Fiber Art & Craft classes, kids ages six and up learn basic techniques of sewing, weaving, knitting and crocheting using colorful yarns, beads, beautiful fabrics and leathers. Instructors can also come to your...
Read more about Lemon Sky Fiber Arts and Crafts »
| | |
| --- | --- |
| CourseHorse Approved School | This school has been carefully vetted by CourseHorse and is a verified NYC educator. |
Taking this class for work? Get exclusive perks & discounts for free.