Class Information
Class Level: Intermediate
Age Requirements: 18 and older
Average Class Size: 12
What you'll learn in this knitting class:
Refund & Cancellation Policy
Refund Policies:
92nd Street Y is not responsible for providing makeup classes or issuing refunds for programs missed as a result of illness, emergencies or other events beyond our control.
There are no refunds for outings, classes or workshops that meet fewer than three times per semester.
If you are unable to attend, you may contact Customer Service prior to the first date for a receipt that enables you to claim your contribution as a tax-deductible gift.
Unless otherwise noted in program description, the following schedule applies to programs which meet three times or more per semester:
To receive a 100% refund, written request must be received 2 weeks prior to the first session.
To receive a 75% refund, written request must be received at least one day prior to the first session.
To receive a 50% refund, written request must be received at least one day prior to the second session.
After that, refunds cannot be granted.
All refund requests must be submitted in writing to Customer Service. Refunds are computed from the date written notice is received.
To receive a refund, you must enclose the original of your confirmation letter.
Please allow three to four weeks for processing of your refund request. Processing fees, membership fees, auditions fees and class or exercise cards are not refundable. No cash refunds.
Price Guarantee
We promise that our prices are the same (or less) than prices on the school's website
Comprehensive
We centralize over 40,000 classes from vetted, high quality class providers
Verified Student Reviews
CourseHorse is the only place where you can read class reviews from verified students
Incredible Service
We're dedicated to supporting your learning goals every step of the way
Fast & Secure Checkout
Single-page checkout and powerful encryption make CourseHorse the place to book
We give you back 5% of every class purchase, to encourage you to keep on learning!
Start Dates (0)
Can't make these dates? Save to Wish List this class to find out first about new class dates.
Map
Questions about this class?
Get help now from a knowledgeable expert!
School: 92nd Street Y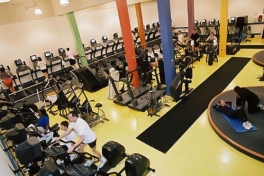 92nd Street Y is a world-class nonprofit community and cultural center that connects people at every stage of life to the worlds of education, the arts, health and wellness, and Jewish life.

Through the breadth and depth of 92Y's extraordinary programs, we enrich lives, create community and elevate...
Read more about 92nd Street Y »
| | |
| --- | --- |
| CourseHorse Approved School | This school has been carefully vetted by CourseHorse and is a verified NYC educator. |
Taking this class for work? Get exclusive perks & discounts for free.