Class Information
Class Level: All levels
Age Requirements: 7 - 12 years old
Average Class Size: 10
What you'll learn in this kids yoga class:
Kids will learn all about yoga.

Trained yoga instructor Irina will lead children to be flexible and strong in a fun and relaxing class.
Refund & Cancellation Policy
The school is not responsible for providing make-ups, credits, or issuing refunds for programs or classes missed as a result of participant illness, emergency or other events beyond the control of the school. One make-up is allowed per term for participants who have paid in full for that term and will not be available for registrants who have joined after the third session of the class.

Upon injury or unforeseen inability to participate mid-session, it is the participants' responsibility to bring a written doctor's note within 3 days of the injury in order to qualify for a refund or credit. All refund and credit requests must be submitted in writing to the reception and will be computed from the date received. Please note that there will be a $25 administration fee for processing requests.

The school reserves the right to cancel a program due to low enrollment or cancel classes in the event of inclement weather, unavailability of an instructor (in the absence of a substitute) and any situation as deemed urgent by the administration. Every attempt will be made to inform registrants of their class cancellation. If a program is cancelled due to low enrollment, you will receive notification and a refund or credit for the cancelled class. We will make every effort to reschedule cancelled classes depending on when they are cancelled in the season and the feasibility of providing make-ups.
Price Guarantee
We promise that our prices are the same (or less) than prices on the school's website
Comprehensive
We centralize over 40,000 classes from vetted, high quality class providers
Verified Student Reviews
CourseHorse is the only place where you can read class reviews from verified students
Incredible Service
We're dedicated to supporting your learning goals every step of the way
Fast & Secure Checkout
Single-page checkout and powerful encryption make CourseHorse the place to book
We give you back 5% of every class purchase, to encourage you to keep on learning!
Start Dates (0)
Can't make these dates? Save to Wish List this class to find out first about new class dates.
Map
Questions about this class?
Get help now from a knowledgeable expert!
School: Shorefront YM-YWHA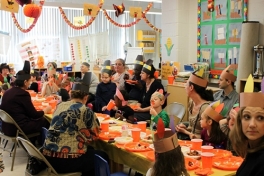 The school builds community, strengthens families and empowers individuals to achieve their potentials and enhance the quality of their lives.

Their programs and services reflect the riches of the school's Jewish community center and settlement house traditions. Deeply rooted in Jewish traditions and...
Read more about Shorefront YM-YWHA »
| | |
| --- | --- |
| CourseHorse Approved School | This school has been carefully vetted by CourseHorse and is a verified NYC educator. |
Taking this class for work? Get exclusive perks & discounts for free.