Class Information
Class Level: Beginner
Age Requirements: 18 and older
Average Class Size: 10
What you'll learn in this jewelry class:
This introductory class will teach beginners with the essentials of jewelry making and create a sterling silver ring.


Instructors: David Butler / Erin Daily / Janna Gregonis / Shella Robinson / Sayumi Yokouchi
Jewelry I Kit includes the following available for purchase At Metaliferous or AllCraft*
Essential tools (must haves)
*Saw blades (2 dozen each minimum) #4/0 - $3.50 per dozen
*Needle Files #2 cut – set of six, (Metalliferous item #FIL994.00 cut 2, $6.95) (OR a more expensive but better quality #33.906, $23.00)
*Hand file #2 cut, half-round (Metalliferous item #32.310S $6.95 – STUDENT-GRADE) (OR #FIL120.20 $18.40 BETTER) (OR #31.114 $32.40 BEST)
*File handle (screw-on style for hand file) - #37.820 $2.65
*Center Punch, item #47.900 $2.00
*Scribe (cheapest one), item #GEN085 $2.00
*Twist Drill Assortment (set of 6), item #20.106, $7.15
*AA tweezers item, $2.35
*Solder pick, item #TX1580 $3.95
*Sandpaper 4-pack (silicone carbide, wet/dry) one sheet each of grits: 220, 320, 400, 600 - $6.00
*Steel Ruler (6") mm/inches, item #GEN305 $2.35
*Sheet Metal (price varies according to market)
Copper - 6" x 6" x 18 gauge $6.90 or 20 gauge $5.45
Sterling silver - 1" x 4" x 18 gauge (approx. $36.00)
Most jewelry will be made in sterling silver, copper and brass are accents
Solder, hard, medium, easy. 1 ft each. - $3.45 each
Sketchbook or notebook (not from Metalliferous)
Optional but very helpful
4" Jeweler's Saw frame – #SAW314 $16.00
Split Mandrel for sandpaper (not tapered) - #11.308 $1.30
Forming pliers (half round & flat) – #PLR498.40 $7.00
Beeswax - #26.100 $2.15
Chain nose pliers - #PL650 $8.00
Side cutters - #PL170 $5.95
Curved cross locking tweezers - #TWZ741.00 $3.95
3 small containers for solder – $2.00 - $5.00
small paintbrush for flux - $0.35 - $1.95
Fine point sharpie marker (not from Metalliferous)
The Complete Metalsmith by Tim McCreight - #BKS682 $15.00
Suggested Suppliers:
Allcraft Tool & Supply. 135 W 29 St, suite 205, 1 800 645-7124
(For tools and metals) 10% discount to Y students!
Metalliferous, 34 West 46th Street (212) 944-0909
(For tools and metals)
If you have any questions regarding supplies please call 212 415-5562 or 5564
Shella Robinson requests the following in addition to the tool kit.
-Handle for hand file (preferably threaded) #37.820 $2.65
-A hand towel or rag
-4 Wooden paint sticks (used for stirring paint, found at hardware store)
-Plastic lid (from yogurt or to go container)
(the following items on the 92st Optional but very helpful list):
- Ultra fine tip Sharpie permanent marker
-A small inexpensive paintbrush for flux
Refund & Cancellation Policy
Refund Policies:
92nd Street Y is not responsible for providing makeup classes or issuing refunds for programs missed as a result of illness, emergencies or other events beyond our control.
There are no refunds for outings, classes or workshops that meet fewer than three times per semester.
If you are unable to attend, you may contact Customer Service prior to the first date for a receipt that enables you to claim your contribution as a tax-deductible gift.
Unless otherwise noted in program description, the following schedule applies to programs which meet three times or more per semester:
To receive a 100% refund, written request must be received 2 weeks prior to the first session.
To receive a 75% refund, written request must be received at least one day prior to the first session.
To receive a 50% refund, written request must be received at least one day prior to the second session.
After that, refunds cannot be granted.
All refund requests must be submitted in writing to Customer Service. Refunds are computed from the date written notice is received.
To receive a refund, you must enclose the original of your confirmation letter.
Please allow three to four weeks for processing of your refund request. Processing fees, membership fees, auditions fees and class or exercise cards are not refundable. No cash refunds.
Teacher: Shella Robinson
See Classes Taught by This Teacher »
Shella Robinson currently teaches Jewelry I, Jewelry II, Independent Study and various workshops at the 92nd St. Y School of the Arts. She is also the Associate Director at a prominent contemporary art gallery in Chelsea. Previously, Robinson taught classes and workshops at the Midtown YWCA, NYC. After graduating with a BFA in Metalsmithing and Jewelry, Robinson earned a MFA in Metals and Jewelry at the State University of NY, New Paltz, where she also taught as an adjunct professor. Various one-of-a-kind pieces of Robinson's have been exhibited both nationally and internationally at venues such as Velvet da Vinci Gallery, John Kohler Arts Center and Galerie Marzee.
Price Guarantee
We promise that our prices are the same (or less) than prices on the school's website
Comprehensive
We centralize over 40,000 classes from vetted, high quality class providers
Verified Student Reviews
CourseHorse is the only place where you can read class reviews from verified students
Incredible Service
We're dedicated to supporting your learning goals every step of the way
Fast & Secure Checkout
Single-page checkout and powerful encryption make CourseHorse the place to book
We give you back 5% of every class purchase, to encourage you to keep on learning!
Start Dates (2)
Notes:
Room: S352, 3rd Fl, S Bldg
Teacher:
Shella Robinson
Schedule:
Thu, Oct 02 6:30pm - 9:00pm
Thu, Oct 09 6:30pm - 9:00pm
Thu, Oct 16 6:30pm - 9:00pm
Thu, Oct 23 6:30pm - 9:00pm
Thu, Oct 30 6:30pm - 9:00pm
Thu, Nov 06 6:30pm - 9:00pm
Thu, Nov 13 6:30pm - 9:00pm
Thu, Nov 20 6:30pm - 9:00pm
Thu, Nov 27 6:30pm - 9:00pm
Thu, Dec 04 6:30pm - 9:00pm
Thu, Dec 11 6:30pm - 9:00pm

Location:
Upper East Side, Manhattan
1395 Lexington Ave
Btwn E 91st & 92nd Streets
New York, New York 10128
Map
Can't make these dates? Save to Wish List this class to find out first about new class dates.
Map
Questions about this class?
Get help now from a knowledgeable expert!
School: 92nd Street Y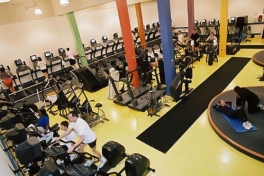 92nd Street Y is a world-class nonprofit community and cultural center that connects people at every stage of life to the worlds of education, the arts, health and wellness, and Jewish life.

Through the breadth and depth of 92Y's extraordinary programs, we enrich lives, create community and elevate...
Read more about 92nd Street Y »
| | |
| --- | --- |
| CourseHorse Approved School | This school has been carefully vetted by CourseHorse and is a verified NYC educator. |
Ready to take this class?
Book Online
Or call 212-729-4088
Taking this class for work? Get exclusive perks & discounts for free.