Class Information
Class Level: Beginner
Age Requirements: 18 and older
Average Class Size: 12
What you'll learn in this health class:
Students will successfully demonstrate the basic poses in yoga, learn sun salutations.

This is a great class for someone who is new to yoga or has practiced for a short time. In this class, we will add to your Bare Bones Basics poses and introduce Sun Salutations, deeper Hip and shoulder Openers and a re-introduction to your long forgotten Core.
Refund & Cancellation Policy
All class cards are non-transferable and non-refundable.
Credit is only given for cancellations at least 48 hours prior to workshop.
No refunds, no credits less than 48 hours before workshop.
If Reflections Yoga cancels a workshop, full credit or refund will be issued.
There will be no refunds or credits for missed sessions within a multiple session workshop.
Teacher: Amy DeFilippi
See Classes Taught by This Teacher »
Amy has studied with various teachers and sages throughout India during my six month journey there, including at the Iyengar Yoga Institute in Pune, India. She also studied with Geeta Iyengar at the IYNAUS conference in 2007. She did my 200 hour teacher training at Yoga Hawaii with Rupali Embry and Prem focusing on Asthanga Yoga. She earned my advanced teaching certificate in Vinyasa yoga with Shiva Rea. I attended a week long Asthanga Yoga workshop in San Francisco with Sri K. Pattabhi Jois and studied with senior Asthanga teacher Sharath Ragamsway. She has been studying Iyengar Yoga for eight years and completed a six month teacher training class at the East Honolulu Yoga Center. She also also completed a 110 hour yoga therapeutics teacher training with senior Iyengar teacher Kofi Busia. Amy has been teaching yoga since 2003 and students describe her classes as fun, informative, and productive. Right now, her favorite asana is the triangle pose!
Price Guarantee
We promise that our prices are the same (or less) than prices on the school's website
Comprehensive
We centralize over 40,000 classes from vetted, high quality class providers
Verified Student Reviews
CourseHorse is the only place where you can read class reviews from verified students
Incredible Service
We're dedicated to supporting your learning goals every step of the way
Fast & Secure Checkout
Single-page checkout and powerful encryption make CourseHorse the place to book
We give you back 5% of every class purchase, to encourage you to keep on learning!
Start Dates (0)
Can't make these dates? Save to Wish List this class to find out first about new class dates.
Map
Questions about this class?
Get help now from a knowledgeable expert!
School: Reflections Yoga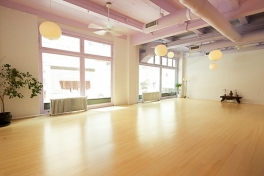 Reflections Yoga is an urban oasis nestled among giant financial institutions, Times Square, Broadway theatres and luxury high-rises in midtown Manhattan. We welcome and invite you to transcend the tensions of city life and join us for a "just right" yoga class with some of the best teachers in NYC,...
Read more about Reflections Yoga »
| | |
| --- | --- |
| CourseHorse Approved School | This school has been carefully vetted by CourseHorse and is a verified NYC educator. |
Reviews of Classes at
Reflections Yoga
(
4
Reviews)
Taking this class for work? Get exclusive perks & discounts for free.