Class Information
Class Level: Intermediate
Age Requirements: 16 and older
Average Class Size: 12
What you'll learn in this health class:
In this class, you will learn the basic concepts of each weapon and then weapon forms. After mastery of the basic concepts and forms, the students will also learn two man forms, which help them learn blocking and timing.

This course focuses on practicing students skills and ability to use the weapon of their choice. Students will have the chance to choose one of these weapons:

The weapons class is for intermediate to advanced students only.
Refund & Cancellation Policy
Refunds will be issued for classes, but not uniforms. They will be pro-rated depending on how much time elapsed since joining.
Teacher: David Chiang
See Classes Taught by This Teacher »
Master David Chiang has been practicing and teaching kung fu for over 22 years. He trained students of all ages, from age 4 to age 70. Many of his students have achieved black belts in other styles before learning coming to learn from him. His students have consistently won national and regional competitions. He has judged numerous competitions at the regional, national and international level. Master Chiang specializes in the Praying Mantis and Ba Ji styles of Kung Fu.
Price Guarantee
We promise that our prices are the same (or less) than prices on the school's website
Comprehensive
We centralize over 40,000 classes from vetted, high quality class providers
Verified Student Reviews
CourseHorse is the only place where you can read class reviews from verified students
Incredible Service
We're dedicated to supporting your learning goals every step of the way
Fast & Secure Checkout
Single-page checkout and powerful encryption make CourseHorse the place to book
We give you back 5% of every class purchase, to encourage you to keep on learning!
Start Dates (0)
Can't make these dates? Save to Wish List this class to find out first about new class dates.
Map
Questions about this class?
Get help now from a knowledgeable expert!
School: New York Wu Tang Kung Fu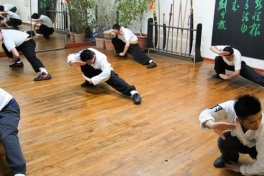 We specialize in training people of all ages in Kung Fu. Kung Fu is the martial art that originated in China over 2000 years ago. We teach several styles of Kung Fu that work together as a system to give our students the skills to deal with any situation.

The way we teach strengthens the minds and bodies...
Read more about New York Wu Tang Kung Fu »
| | |
| --- | --- |
| CourseHorse Approved School | This school has been carefully vetted by CourseHorse and is a verified NYC educator. |
Taking this class for work? Get exclusive perks & discounts for free.