Class Information
Class Level: All levels
Age Requirements: 13 and older
Average Class Size: 35
What you'll learn in this health class:
The following martial arts: Jeet Kune Do, Kali (Eskrima) Muay Thai, Panatuken, Boxing, and Silat are combined in their most effective states to offer practical self defense training and to help you become a well-rounded fighter who can adapt to any range, opponent, or situation.

This course is composed of the following martial arts: Jeet Kune Do, Kali (Eskrima) Muay Thai, Panatuken, Boxing, and Silat.

Filipino Martial Arts (Kali) is an extremely effective, battle tested, weapons based system. The bulk of your training in this art will be with weapons such as the stick, knife and staff. We also teach various empty hand systems that are taken from this dynamic and functional art that will more than compliment your JKD concepts training.

Jeet Kune Do will teach you how to function out of all 4 ranges of fighting – Kicking, Punching, Trapping, Grappling.

Muay Thai, the national sport of Thailand, is one of the worlds most effective striking based arts - mixing western style boxing and devastating kicks with close range techniques such as elbows and knees.
Price Guarantee
We promise that our prices are the same (or less) than prices on the school's website
Comprehensive
We centralize over 40,000 classes from vetted, high quality class providers
Verified Student Reviews
CourseHorse is the only place where you can read class reviews from verified students
Incredible Service
We're dedicated to supporting your learning goals every step of the way
Fast & Secure Checkout
Single-page checkout and powerful encryption make CourseHorse the place to book
We give you back 5% of every class purchase, to encourage you to keep on learning!
Start Dates (0)
Can't make these dates? Save to Wish List this class to find out first about new class dates.
Map
Questions about this class?
Get help now from a knowledgeable expert!
School: Anderson Martial Arts Academy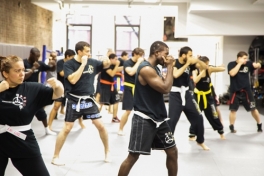 Welcome to Anderson's Martial Arts Academy, New York City's premiere facility for all areas of combat. Open to the public for the past 17 years, we are the only school in New York that has the experience and lineage to equip our students with a complete Martial Sport and Martial Combat program.

We...
Read more about Anderson Martial Arts Academy »
| | |
| --- | --- |
| CourseHorse Approved School | This school has been carefully vetted by CourseHorse and is a verified NYC educator. |
Taking this class for work? Get exclusive perks & discounts for free.