Class Information
Class Level: All levels
Age Requirements: 18 and older
Average Class Size: 14
What you'll learn in this health class:
Students will learn yoga as a "kriya" form, a complete action. They will learn physical postures, breathing techniques, stress release and relaxation techniques, guided imagery and affirmations, mantras, kriyas, and meditations.

Kundalini is one of the more spiritual types of yoga. It goes beyond the physical performance of poses with its emphasis on breathing, meditation, mudras and chanting. Kundalini sequences can also be very physically intense, providing both mental and physical challenges.

The "Kundalini" is untapped energy (prana), often represented as a snake coiled at the base of the spine, that can be drawn up through the body awakening each of the seven chakras. Full enlightenment occurs when this energy reaches the Crown Chakra.

Each Kundalini Yoga asana series is done in conjunction with a specific breath that intensifies the effects of the poses with the purpose of freeing energy in the lower body and allowing it to move upwards. In this progressive series (each class building on the one before).

Kundalini yoga is a physical, mental and spiritual discipline for developing strength, awareness, character, and consciousness. Practitioners call Kundalini the yoga of awareness because it focuses primarily on practices that expand sensory awareness and intuition in order to raise individual consciousness. Considered an advanced form of yoga and meditation, its purpose is to cultivate the creative spiritual potential of a human to uphold values, speak truth, and focus on the compassion and consciousness needed to serve and heal others.



Refund & Cancellation Policy
We need at least 2 hours notice if you need to cancel a reservation which may be done online or via phone.
Price Guarantee
We promise that our prices are the same (or less) than prices on the school's website
Comprehensive
We centralize over 40,000 classes from vetted, high quality class providers
Verified Student Reviews
CourseHorse is the only place where you can read class reviews from verified students
Incredible Service
We're dedicated to supporting your learning goals every step of the way
Fast & Secure Checkout
Single-page checkout and powerful encryption make CourseHorse the place to book
We give you back 5% of every class purchase, to encourage you to keep on learning!
Start Dates (0)
Can't make these dates? Save to Wish List this class to find out first about new class dates.
Map
Questions about this class?
Get help now from a knowledgeable expert!
School: Tree of Life Yoga & Wellness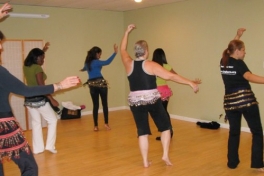 Genesis Tree of Life Yoga & Wellness Center (GTOL) is a Raja Yoga school in the Himalayan Tradition and an integrative holistic center in the heart of Queens, New York. Our yoga classes are designed to teach and make available, to our community and beyond, the knowledge of yoga meditation within...
Read more about Tree of Life Yoga & Wellness »
| | |
| --- | --- |
| CourseHorse Approved School | This school has been carefully vetted by CourseHorse and is a verified NYC educator. |
Reviews of Classes at
Tree of Life Yoga & Wellness
(
1
Review)
Taking this class for work? Get exclusive perks & discounts for free.