Class Information
Class Level: All levels
Age Requirements: 18 and older
Average Class Size: 15
What you'll learn in this health class:
Pre-and post-meditative asanas are used to prepare and restore the body for meditation, while the ancient tools of pranayama, visualization, and mantra are used to still the mind.

These signature ISHTA classes are led by Yogiraj (Yoga Master) Alan Finger. These classes will leave you feeling centered and more in tune with your true self. Open to all levels and great for those recovering from illness or disease.
Teacher: Alan Finger
See Classes Taught by This Teacher »
South African Tantric and Kriya Yoga Master Alan Finger began studying yoga at the age of 16 with his father Mani Finger and renowned swamis of the past century. Alan and Mani created ISHTA Yoga. The ISHTA style integrates breath-based flow yoga with alignment, meditation and healing bodywork. Before creating a home for ISHTA, Alan co-founded Yoga Zone, Be Yoga and Yoga Works. Alan has authored several books and travels the world to share his teachings.
Price Guarantee
We promise that our prices are the same (or less) than prices on the school's website
Comprehensive
We centralize over 40,000 classes from vetted, high quality class providers
Verified Student Reviews
CourseHorse is the only place where you can read class reviews from verified students
Incredible Service
We're dedicated to supporting your learning goals every step of the way
Fast & Secure Checkout
Single-page checkout and powerful encryption make CourseHorse the place to book
We give you back 5% of every class purchase, to encourage you to keep on learning!
Start Dates (0)
Can't make these dates? Save to Wish List this class to find out first about new class dates.
Map
Questions about this class?
Get help now from a knowledgeable expert!
School: ISHTA Yoga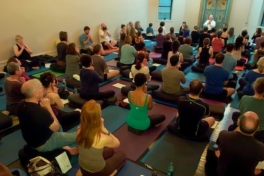 Our Mission The ISHTA mission is to blend the ancient and contemporary yoga teachings of Hatha, Tantra and Ayurveda into a system that caters to our individual students' needs. Whether you are looking for physical strength or greater peace of mind, we provide you with a tailored practice to enhance...
| | |
| --- | --- |
| CourseHorse Approved School | This school has been carefully vetted by CourseHorse and is a verified NYC educator. |
Taking this class for work? Get exclusive perks & discounts for free.