Class Information
Class Level: All levels
Age Requirements: 18 and older
Average Class Size: 15
What you'll learn in this health class:
This class focuses on the breath (pranayama) and commonly practiced postures (asana). Students will hold postures longer than you might in a standard vinyasa class.

Hatha Yoga utilizes the breath to explore postures and variations with a different energetic focus (bandha). This practice focuses on increasing the benefits of postures to allow accessibility in more complex postures and poses.
Refund & Cancellation Policy
All service fees, passes & memberships are non-refundable and non-transferable. May not combine promotions.
Teacher: Dominick Hiddo-Perry
See Classes Taught by This Teacher »
Dominick has always had an affinity for mysticism and philosophy as a teenager; so segueing into the practice of Yoga was very natural for him. His love for the practice was cultivated while practicing with his Jivamukti teacher, Rima Rabbath. While practicing in her classes, Dominick decided that he wanted to rise to the next level and start teaching Yoga. He did his 200-Hour teacher training with the studio under the guidance of Lauren Hanna, Johanna Aldrich and Will Duprey. Will Duprey, a disciple of Sri Dharma Mittra, introduced Dominick to studies of Hatha Yoga. Since then, Dominick has never looked back. He further cultivated his practices of Hatha Yoga with Sri Dharma Mittra himself. Currently, Dominick is doing a 500-Hour Hatha Yoga teacher training with Will Duprey in Guatemala. Dominick has taught Yoga to benefit a gamut of non-profits. He has also taught the practice to High School students. While teaching at the studio, he is enjoying every moment as the teacher and the student. He independently studies the art of Natural Healing with foods and herbs. He also studies Devanagari/Sanskrit with Scholar, Acarya Dr. P. Jayaraman.
Price Guarantee
We promise that our prices are the same (or less) than prices on the school's website
Comprehensive
We centralize over 40,000 classes from vetted, high quality class providers
Verified Student Reviews
CourseHorse is the only place where you can read class reviews from verified students
Incredible Service
We're dedicated to supporting your learning goals every step of the way
Fast & Secure Checkout
Single-page checkout and powerful encryption make CourseHorse the place to book
We give you back 5% of every class purchase, to encourage you to keep on learning!
Start Dates (0)
Can't make these dates? Save to Wish List this class to find out first about new class dates.
Map
Questions about this class?
Get help now from a knowledgeable expert!
School: Sonic Yoga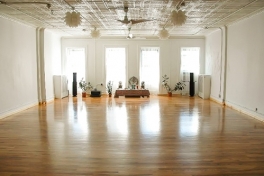 The studio was born in 2001 in the heart of New York City's bustling Hell's Kitchen district which quickly blossomed into a mecca for NYC's theatre-set and others looking for a super-friendly place to practice yoga. Since then, the studio has welcomed more than 15,000 students into its family...
| | |
| --- | --- |
| CourseHorse Approved School | This school has been carefully vetted by CourseHorse and is a verified NYC educator. |
Reviews of Classes at
Sonic Yoga
(
3
Reviews)
Taking this class for work? Get exclusive perks & discounts for free.