Class Information
Class Level: Beginner
Age Requirements: 13 and older
Average Class Size: 15
What you'll learn in this health class:
Students attending this class will learn the clear and precise instruction of yoga poses is combined with direction on how to use breathing as a tool for fluid movement.

These classes are excellent for anyone who has ever said, "I'm not flexible. I can't do yoga!". But they're also great for seasoned practitioners who want to deepen their understanding of the basics. Poses are modified throughout class for each student's ability.

Note: Students 13 to 17 years old should be accompanied by a parent or guardian.
Refund & Cancellation Policy
The school strives to provide the best possible service to our clients. If for any reason you are not satisfied with our services, we will issue you a refund for services not performed. Refund requests require a 48 hour written notice via email to
[email protected]
We reserve the right to amend this policy at our discretion.
Teacher: Colleen McKinney
See Classes Taught by This Teacher »
Colleen is a certified yoga teacher, having completed 500 hours of training at Yoga Works in New York City. Her teaching style is influenced by two approaches: Iyengar yoga, which emphasizes precise bone alignment so that students can safely move in and out of poses, and Vinyasa yoga, which utilizes the power of breathing to move the body and quiet the mind. Combining these two approaches, she helps her students increase body awareness and confidence, tone muscles and focus and calm their minds. She particularly enjoys teaching beginners, seniors, people who work at desks and anyone who says, "I can't do that. I'm not flexible."
Price Guarantee
We promise that our prices are the same (or less) than prices on the school's website
Comprehensive
We centralize over 40,000 classes from vetted, high quality class providers
Verified Student Reviews
CourseHorse is the only place where you can read class reviews from verified students
Incredible Service
We're dedicated to supporting your learning goals every step of the way
Fast & Secure Checkout
Single-page checkout and powerful encryption make CourseHorse the place to book
We give you back 5% of every class purchase, to encourage you to keep on learning!
Start Dates (0)
Can't make these dates? Save to Wish List this class to find out first about new class dates.
Map
Questions about this class?
Get help now from a knowledgeable expert!
School: Barefoot Tiger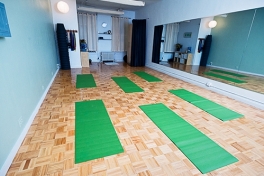 This school was founded in 2005 by Kendra Coppey in New York City. It was born out of the idea that every person of every age and background deserves to live a healthy life, and it all begins with education.

The school's mission is to create a community where the student in all of us can be cultivated,...
Read more about Barefoot Tiger »
| | |
| --- | --- |
| CourseHorse Approved School | This school has been carefully vetted by CourseHorse and is a verified NYC educator. |
Taking this class for work? Get exclusive perks & discounts for free.