Class Information
Class Level: All levels
Age Requirements: 18 and older
Average Class Size: 8
What you'll learn in this hat class:
Students will learn to create their own velour fascinator or cocktail hat.

This class will teach students to learn how to work velour, stitch and finish your cocktail hat as well as work with embellishments and feathers. Holly will also review great sources for yarns and patterns and provide details on making flowers and pomps to accessorize hats, scarves, ponchos, etc.

Note: The materials kit is included in the price of the class.
Refund & Cancellation Policy
Cancellations need to be done with in 24 hours and usually reschedule instead of a refund.
Teacher: Holly Slayton
See Classes Taught by This Teacher »
Holly Slayton, the founder of Artikal, has been working with other hot young New York designers to get their craft to the public. "I'm really excited about the future of my craft. 'Handmade' is becoming more and more popular, Artikal is being featured in fashion shows and designer showcases and I'll be doing some great trunk shows this spring." She has recently been featured in the Daily News and has been hosting her own designer get togethers, Happy Hour Bartique and The Urban Designer Collective, every month.
Price Guarantee
We promise that our prices are the same (or less) than prices on the school's website
Comprehensive
We centralize over 40,000 classes from vetted, high quality class providers
Verified Student Reviews
CourseHorse is the only place where you can read class reviews from verified students
Incredible Service
We're dedicated to supporting your learning goals every step of the way
Fast & Secure Checkout
Single-page checkout and powerful encryption make CourseHorse the place to book
We give you back 5% of every class purchase, to encourage you to keep on learning!
Start Dates (0)
Can't make these dates? Save to Wish List this class to find out first about new class dates.
Map
Questions about this class?
Get help now from a knowledgeable expert!
School: Artikal Handcrafted Millinery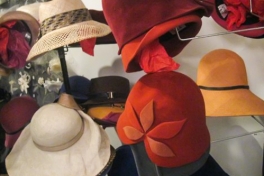 The school was established in 2001 and since then they have been offering original bespoke hats, headpieces and veils to their clients as well as magazines, tv and film. They specialize in creating one of a kind hand made pieces to match or compliment your outfit. Through their consultation they will...
Read more about Artikal Handcrafted Millinery »
| | |
| --- | --- |
| CourseHorse Approved School | This school has been carefully vetted by CourseHorse and is a verified NYC educator. |
Reviews of Classes at
Artikal Handcrafted Millinery
(
5
Reviews)
Taking this class for work? Get exclusive perks & discounts for free.