Price:

Start date:
Location:
Murray Hill
290 Madison Ave 3rd floor
(Btwn E 40th & 41st Streets)
New York, New York 10017 (Map)
Share:
Facebook Twitter Pinterest Email
Important:

These classes sell out faster than we update our systems. Enroll and we'll confirm your spot.
Class Information
Class Level: Beginner
Age Requirements: 18 and older
Average Class Size: 6
What you'll learn in this grammar class:
In this course, students will learn how to improve their business writing skills by understanding grammar rules.


Outline
Lesson 1: The importance of grammar

Grammar skills
Improving grammar skills
Writing clearly
Nouns and verbs
Identifying nouns
Identifying verbs
Lesson 2: Pronouns, adjectives, and adverbs
Pronouns
Identifying pronouns
Identifying categories of pronouns
Identifying pronoun cases
Identifying compound personal pronouns
Adjectives and adverbs
Identifying types of adjectives
Identifying adverbs
Identifying degrees of adjectives and adverbs
Lesson 3: Prepositions, conjunctions, and interjections
Prepositions
Identifying prepositions
Identifying prepositional phrases
Conjunctions
Identifying conjunctions
Working with clauses and conjunctions
Interjections
Identifying interjections
Lesson 4: Effective sentences
Sentence formation
Defining effective sentences
Identifying sentences
Defining the natural order of sentences
Identifying subjects
Identifying predicates
Phrases and clauses
Identifying phrases
Identifying clauses
Sentence classifications
Classifying sentences
Lesson 5: Agreement rules
Subject and verb agreement
Identifying subject and verb agreement
Identifying singular subjects
Identifying compound subjects
Identifying pronoun and antecedent agreement
Identifying verb tense agreement
Parallel sentence structure
Making sentences parallel
Lesson 6: Improving sentence structure
Sentence fragments
Identifying sentence fragments
Run-on sentences
Identifying run-on sentences
Active and passive voice
Identifying passive voice
Changing passive voice to active voice
Split infinitives
Identifying split infinitives
Discussing sentence structure guidelines
Lesson 7: Word choice
The importance of word choice
Selecting the right word
Misused words
Identifying misused words
Spelling errors
Fixing spelling errors
Prefixes and suffixes
Attaching prefixes
Attaching suffixes
Lesson 8: Punctuation and mechanics
Punctuation to separate clauses
Using commas
Using semicolons and colons
Using dashes
Parentheses and apostrophes
Using parentheses and brackets
Using apostrophes
Using hyphens
Quotation marks and numbers
Using quotation marks and ellipses
Using italics
Determining when to spell out words
Capitalization rules
Applying capitalization rules
Lesson 9: Synonyms, antonyms, and homonyms
Synonyms and antonyms
Identifying synonyms and antonyms
Homonyms
Identifying homonyms
Refund & Cancellation Policy
Cancellation & Refund Policies:

Please notify New Horizons six (6) or more business days in advance of your scheduled class if you need to cancel your reservation for applications classes, and eleven (11) days or more business days for technical classes.

Cancellations may be made by calling or e-mailing your Account Executive. You will receive a 100% refund if you cancel according to the terms above for applications and technical classes.

If you are a club member, you may be assessed a late fee of $50.00 for an applications class, and $200 for a technical class if you cancel late or do not show up for class.

If you are a coupon holder, you will be assessed one coupon for each class that you do not show up for.
Price Guarantee
We promise that our prices are the same (or less) than prices on the school's website
Comprehensive
We centralize over 40,000 classes from vetted, high quality class providers
Verified Student Reviews
CourseHorse is the only place where you can read class reviews from verified students
Incredible Service
We're dedicated to supporting your learning goals every step of the way
Fast & Secure Checkout
Single-page checkout and powerful encryption make CourseHorse the place to book
We give you back 5% of every class purchase, to encourage you to keep on learning!
Start Dates (0)
Can't make these dates? Save to Wish List this class to find out first about new class dates.
Map
Questions about this class?
Get help now from a knowledgeable expert!
School: New Horizons Computer Learning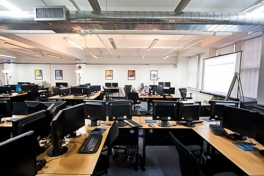 As part of the largest independent IT Training Provider, New Horizons Computer Learning Center delivers more courses than any other IT training company.

Innovative and Flexible Learning Methods

New Horizons New York City understands that not everyone is the same, and we have developed a variety of innovative...
Read more about New Horizons Computer Learning »
| | |
| --- | --- |
| CourseHorse Approved School | This school has been carefully vetted by CourseHorse and is a verified NYC educator. |
Reviews of Classes at
New Horizons Computer Learning
(
3
Reviews)
Taking this class for work? Get exclusive perks & discounts for free.