Class Information
Class Level: All levels
Age Requirements: 18 and older
Average Class Size: 6
What you'll learn in this flash training:
Participants in this class will learn to use Flash to add animation on Web objects, to create animated banners, cartoons and more.

You Will Learn To:

Understand the concepts and technology behind Flash
Save and manage work space layouts
Work with panels and set initial movie characteristics using the Property Inspector
Use Flash's basic drawing and painting tools
Select objects using the Arrow and Lasso tools
Create text blocks and convert them into shapes
Work with Flash movies that contain multiple layers
Work with different types of animations
Prepare a Flash movie for publishing on the Web
Who Should Enroll: Individuals interested in creating exciting enhancements for web sites. Experience in programming is useful but not required.

Detailed Course Outline:

Day 1

Getting to Know the Work Area
Working with Graphics
Creating and Editing Symbols
Working with Text
Adding Animation
Animating GIFs for the Web
Day 2
Creating Interactive Files
Actionscript Basics
Using Components
Working with Sound and Video
Loading and Optimizing Flash content
Publishing Flash document
Refund & Cancellation Policy
Please note that enrollment is limited and registrations are accepted on a first-come, first-serve basis. No registration will be accepted until payment has been received. This requirement applies to all participants.

Registrants who cancel their registration by the Wednesday of the week prior to the start of class will receive a full refund. No refunds will be granted after that date. Pace University reserves the right to substitute instructors, change the day or time a program meets, or cancel programs due to insufficient enrollment or unforeseen events. If a class is canceled, a full refund will be issued.
Price Guarantee
We promise that our prices are the same (or less) than prices on the school's website
Comprehensive
We centralize over 40,000 classes from vetted, high quality class providers
Verified Student Reviews
CourseHorse is the only place where you can read class reviews from verified students
Incredible Service
We're dedicated to supporting your learning goals every step of the way
Fast & Secure Checkout
Single-page checkout and powerful encryption make CourseHorse the place to book
We give you back 5% of every class purchase, to encourage you to keep on learning!
Start Dates (0)
Can't make these dates? Save to Wish List this class to find out first about new class dates.
Map
Questions about this class?
Get help now from a knowledgeable expert!
School: Pace University CPE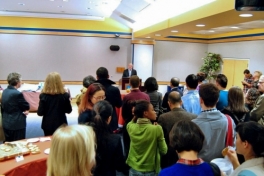 This school gives you the power to transform your life ---to achieve your educational goals and career dreams. Whether you are looking to enhance your skills in your current position, contemplating a career change, updating your resume, or opening up your mind to something you have always dreamed of...
Read more about Pace University CPE »
| | |
| --- | --- |
| CourseHorse Approved School | This school has been carefully vetted by CourseHorse and is a verified NYC educator. |
Reviews of Classes at
Pace University CPE
(
1
Review)
Taking this class for work? Get exclusive perks & discounts for free.