Class Information
Class Level: All levels
Age Requirements: 18 and older
Average Class Size: 12
What you'll learn in this film and television acting class:
Based on your HS/resume, Maria will select sides which will be emailed to you in advance. The evening will start off with a Q&A, followed by your scene using the pre-read format on camera with a reader in a group. Be prepared for extensive feedback from Maria and Samantha as well as ready to take re-adjustments on the fly.

First time offered! We are thrilled to have Maria and Samantha to work with you on what it takes to book that next role on Television.



Refund & Cancellation Policy
Refund Policies:

We regret that we are unable to give refunds under any circumstances!

Cancellation Policies:

If you cancel at least 48 hours before the scheduled time of your seminar, you will not be charged. The policy for a class or special event is 7 days prior to the start date in order to receive credit for monies paid. It can be used for any and all programs at Actors Connection. There may be special cancellation policies for holidays that are printed in the schedule. If you cancel in time, credit is automatically returned to your Actors Connection account. If you are canceling late, no credit is given unless we find a replacement for you. We have, on occasion, been able to replace actors who late cancel with others from wait lists or who might be standing by. If you are replaced, as a courtesy, we will not charge you for the late cancellation. Please consider any late cancellation a charge on your account, and any resulting replacement a courtesy. You may want to re-adjust your schedule to attend, since although we do our best to have full seminars we can never promise a replacement. If you are a "no show" for a seminar, you will not receive credit under any circumstances.
Teacher: Maria Hubbard & Samantha Chalk
See Classes Taught by This Teacher »
Maria brings years of casting experience to this evening and we are thrilled that she has recently joined Clint Alexander casting at FOX. Previously, Maria was with Tucker/Meyerson Casting where she cast hit series such as Rescue Me for F/X, Damages for F/X, the hit Showtime series Nurse Jackie starring Edie Falco and the first season of Fringe. Samantha is a first time guest to Actors Connection and is actively looking to sign some developmental clients to add to her roster at this esteemed agency.
Price Guarantee
We promise that our prices are the same (or less) than prices on the school's website
Comprehensive
We centralize over 40,000 classes from vetted, high quality class providers
Verified Student Reviews
CourseHorse is the only place where you can read class reviews from verified students
Incredible Service
We're dedicated to supporting your learning goals every step of the way
Fast & Secure Checkout
Single-page checkout and powerful encryption make CourseHorse the place to book
We give you back 5% of every class purchase, to encourage you to keep on learning!
Start Dates (0)
Can't make these dates? Save to Wish List this class to find out first about new class dates.
Map
Questions about this class?
Get help now from a knowledgeable expert!
School: Actors Connection New York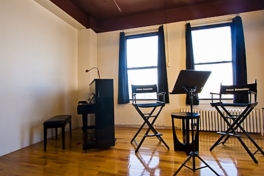 Since 1991, Actors Connection has been opening doors to NY's top agents, casting directors, personal managers and print agents!

With over 150 seminars, classes and special events a month, we offer the working actor an extraordinary opportunity. Whether you're seeking representation, focusing on new areas...
Read more about Actors Connection New York »
| | |
| --- | --- |
| CourseHorse Approved School | This school has been carefully vetted by CourseHorse and is a verified NYC educator. |
Taking this class for work? Get exclusive perks & discounts for free.