Class Information
Class Level: Advanced
Age Requirements: 18 and older
Average Class Size: 7
What you'll learn in this excel class:
You will automate some common Excel tasks, apply advanced analysis techniques to more complex data sets, troubleshoot errors, collaborate on worksheets, and share Excel data with other applications.



This course was designed for students desiring to gain the skills necessary to create macros, collaborate with others, audit and analyze worksheet data, incorporate multiple data sources, and import and export data.




Upon successful completion of this course, students will be able to:
enhance productivity and efficiency by streamlining the workflow
collaborate with other workbook users
audit worksheets
analyze data
work with multiple workbooks
import and export data
integrate Excel data with the web
structure workbooks with XML
Prerequisites: Students are recommended to take the following course or possess equivalent knowledge:
Microsoft Excel 2010 Level 1
Microsoft Excel 2010 Level 2
The Course Curriculum for Microsoft Excel 2010 Level 3:
Lesson 1: Streamlining Workflow
Topic 1A: Update Workbook Properties
Topic 1B: Create a Macro
Topic 1C: Edit a Macro
Topic 1D: Apply Conditional Formatting
Topic 1E: Add Data Validation Criteria
Lesson 2: Collaborating with Other Users
Topic 2A: Protect Files
Topic 2B: Share a Workbook
Topic 2C: Set Revision Tracking
Topic 2D: Review Tracked Revisions
Topic 2E: Merge Workbooks
Topic 2F: Administer Digital Signatures
Topic 2G: Restrict Document Access
Lesson 3: Auditing Worksheets
Topic 3A: Trace Cells
Topic 3B: Troubleshoot Invalid Data and Formula Errors
Topic 3C: Watch and Evaluate Formulas
Topic 3D: Create a Data List Outline
Lesson 4: Analyzing Data
Topic 4A: Create a Trendline
Topic 4B: Create Sparklines
Topic 4C: Create Scenarios
Topic 4D: Perform a What-If Analysis
Topic 4E: Perform a Statistical Analysis with the Analysis ToolPak
Lesson 5: Working with Multiple Workbooks
Topic 5A: Create a Workspace
Topic 5B: Consolidate Data
Topic 5C: Link Cells in Different Workbooks
Topic 5D: Edit Links
Lesson 6: Importing and Exporting Data
Topic 6A: Export Excel Data
Topic 6B: Import a Delimited Text File
Lesson 7: Integrating Excel Data with the Web
Topic 7A: Publish a Worksheet to the Web
Topic 7B: Import Data from the Web
Topic 7C: Create a Web Query
Lesson 8: Structuring Workbooks with XML
Topic 8A: Develop XML Maps
Refund & Cancellation Policy
Students will receive an acknowledgement of their request within 24 hours and will get a final confirmation as to the availability of the requested retake 48-72 hours before the date of the requested class. Retake availability is dependent on the class running with an empty seat. If the student does not receive confirmation they should email at
[email protected]
or 212-729-4088 to confirm the status of their request.
Price Guarantee
We promise that our prices are the same (or less) than prices on the school's website
Comprehensive
We centralize over 40,000 classes from vetted, high quality class providers
Verified Student Reviews
CourseHorse is the only place where you can read class reviews from verified students
Incredible Service
We're dedicated to supporting your learning goals every step of the way
Fast & Secure Checkout
Single-page checkout and powerful encryption make CourseHorse the place to book
We give you back 5% of every class purchase, to encourage you to keep on learning!
Start Dates (16)
Schedule:
Fri, Sep 19 9:00am - 5:00pm

Location:
Murray Hill, Manhattan
185 Madison Ave
Suite 1104
Btwn East 34th & 35th Streets
New York, New York 10016
Map
Can't make these dates? Save to Wish List this class to find out first about new class dates.
Map
Questions about this class?
Get help now from a knowledgeable expert!
School: The Career Center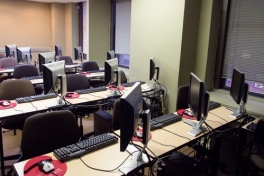 The Career Center has been advancing computer skills in the heart of New York City since 1988, with more than 100 Dual Core computers, spacious classrooms, private tutoring stations, and a friendly, professional staff.

All of our classrooms have full internet and networking accessibility, climate-control,...
Read more about The Career Center »
| | |
| --- | --- |
| CourseHorse Approved School | This school has been carefully vetted by CourseHorse and is a verified NYC educator. |
Ready to take this class?
Book Online
Or call 212-729-4088
Taking this class for work? Get exclusive perks & discounts for free.