Price:

5 seats left

Start date:

Sat, Oct 04 10:00am

-

5:00pm

Location:
Union Square
One Union Square West Suite 805
(At E 14th St)
New York, New York 10003 (Map)
Share:
Facebook Twitter Pinterest Email
Class Information
Class Level: Beginner
Age Requirements: 18 and older
Average Class Size: 10
What you'll learn in this excel class:
By the end of the Excel training course, you will feel confident managing Excel lists, databases, charts, common formulas, formatting, shortcuts and printing.

The Excel for Business group class concentrates on the most common topics that we see in NYC businesses using on a daily basis. This Excel class is perfect for those who are new to Excel, have been using Excel without any training or need to gain a solid grasp of how to use it effectively.

Course Outline:

Lesson 1

What you can do with Excel
Cell and Row structure
Creating an efficient Excel workspace
Quickly entering data using Auto-fill
Auto-entries
Moving Data
Paste Special
Lesson 2
Creating formulas manually
Creating formulas using paste functions and auto functions Sum, Average, Count, Minimum, Maximum, Standard Deviation
Understanding how to use hundreds of predefined functions
Lesson 3
Absolute References and why they are crucial to you
Solo Project:
Monthly global allocation

Lesson 4 - Formatting
Alignment
Size
Direction
Format types
Borders
Cell width and height
Merging cells
Lesson 5 - Advanced Formatting
Custom formatting
Conditional Formatting
Lesson 6 - Charting
Quick and dirty charting when you are in a rush
Advanced data series charting
Chart types and when to use them
Controlling every aspect of chart formatting such as color, axis scales, 3-D views, etc
Lesson 7 - Databases
How to properly set up an Excel Database to ensure accurate information
Auto-filtering
Sorting the database
Subtotals
Freezing Rows for easy viewing
Solo Project:
Database creating and sorting
Lesson 8 - Printing
Setting print area
Using the Page Break Preview
Page Orientation
Repeating heading rows
Adding headers and footers to your printing area
Controlling the annoying "blank pages" and the "stray column" printing problem
Printing areas that are not next to each other
Lesson 9
Where to find answers to more complex Excel problems
Books we have found helpful
Materials
:
Custom printed Manual
Multiple XLS and XLT examples for in class and after class
Shortcut sheet
After class resources
Refund & Cancellation Policy
No charge for substituting students at any time.
No charge to reschedule or cancel before 5 business days of class.
There is a $25 rescheduling, cancellation or retake rescheduling fee within 3-5 business days from the start of class.
No refund or rescheduling permitted within 2 business days of start of class. No refund given for cancellations or "no-shows" within 2 business days from the start of class.
If a retake is cancelled within 2 business days from the start of class, another retake may not be scheduled.
Teacher: Karen M.
See Classes Taught by This Teacher »
Karen is Microsoft Office certified. She is known for making people laugh, making them feel comfortable, bringing students together and delivering practical content that will not be forgotten. Her personality is large, warm and friendly. Her Microsoft Office Specialist Master Certification assures an expert level in all of the Microsoft Office products. She has taught many clients from the private sector, public sectors and students at the college level. Her curriculum repertoire includes MS Word, Excel, PowerPoint, Outlook, Access and the Internet.
Price Guarantee
We promise that our prices are the same (or less) than prices on the school's website
Comprehensive
We centralize over 40,000 classes from vetted, high quality class providers
Verified Student Reviews
CourseHorse is the only place where you can read class reviews from verified students
Incredible Service
We're dedicated to supporting your learning goals every step of the way
Fast & Secure Checkout
Single-page checkout and powerful encryption make CourseHorse the place to book
We give you back 5% of every class purchase, to encourage you to keep on learning!
Start Dates (1)
| | Start Date | # of Sessions | Price | |
| --- | --- | --- | --- | --- |
| | | 1 | $199 | Book |
Teacher:
Karen M.
Schedule:
Sat, Oct 04 10:00am - 5:00pm

Location:
Union Square, Manhattan
One Union Square West
Suite 805
At E 14th St
New York, New York 10003
Map
Can't make these dates? Save to Wish List this class to find out first about new class dates.
Map
Questions about this class?
Get help now from a knowledgeable expert!
School: NYIM Training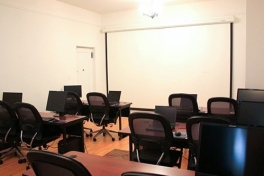 What ever your needs, group or corporate, NYIM provides you with the most practical and efficient hands-on computer training in New York City since 1998. Conveniently located on Union Square, our staff are experienced professionals with 10+ years of training experience in their field. Each of our instructors...
Read more about NYIM Training »
| | |
| --- | --- |
| CourseHorse Approved School | This school has been carefully vetted by CourseHorse and is a verified NYC educator. |
Ready to take this class?
Book Online
Or call 212-729-4088
Taking this class for work? Get exclusive perks & discounts for free.