Class Information
Class Level: All levels
Age Requirements: 13 and older
Average Class Size: 4
What you'll learn in this drawing class:
This personalized class will enhance the student's knowledge of basic drawing techniques, as well as learn more advanced drawing skills.

Drawing is essential/fundamental to any medium. Learn and develop your eyes to see values, shapes and depth. Students will work from still life.

List of materials for drawing class:

Different shads of pencils (at least 6H, 4H, 2H, HB, 2B, 4B, 6B )
Kneaded eraser
Sketchbook of your choice (One heavy weight (at least 70 lb) sketch pad and one light weight-like news print pad are recommended)
To ensure the quality of lessons, please come on time.

Refund & Cancellation Policy
24 hours prior to the class, one credit will be returned if the absence is notified before the class time. No shows won't receive any credit back.
Teacher: Aaron Apsley
See Classes Taught by This Teacher »
I graduated from the Savannah College of Art and Design in 2013 with a BFA in Illustration. My work is based on observation of the world around me. My interests in biology, architecture, and photography contribute to my technical ability as an artist. When creating art I am motivated by my vision of the finished product. I see my working process as a series of puzzles and challenges that my experience as an artist allow me to solve.
Price Guarantee
We promise that our prices are the same (or less) than prices on the school's website
Comprehensive
We centralize over 40,000 classes from vetted, high quality class providers
Verified Student Reviews
CourseHorse is the only place where you can read class reviews from verified students
Incredible Service
We're dedicated to supporting your learning goals every step of the way
Fast & Secure Checkout
Single-page checkout and powerful encryption make CourseHorse the place to book
We give you back 5% of every class purchase, to encourage you to keep on learning!
Start Dates (0)
Can't make these dates? Save to Wish List this class to find out first about new class dates.
Map
Michiyo Art Studio
TriBeCa


59 Franklin Street, B9


Between Broadway & Lafayette


New York

,

New York

10013
All classes at this location
Buzz 034 + call for B9 studio, take the elevator to the basement, studio is all the way back of the hallway.
Questions about this class?
Get help now from a knowledgeable expert!
School: Michiyo Art Studio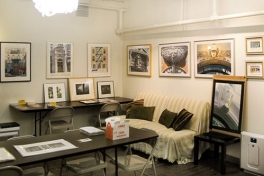 Michiyo Fukushima is NY based fine artist, native of Japan. Her works have been exhibited in numerous group shows and solo shows in NYC, Tokyo and Osaka. Her works have appeared and been featured in numerous newspapers and art magazines including the International Herald Tribune and American...
Read more about Michiyo Art Studio »
| | |
| --- | --- |
| CourseHorse Approved School | This school has been carefully vetted by CourseHorse and is a verified NYC educator. |
Taking this class for work? Get exclusive perks & discounts for free.