Class Information
Class Level: Intermediate
Age Requirements: 18 and older
Average Class Size: 8
What you'll learn in this construction training:
This day-long seminar provides an in-depth examination of the history, manufacturing process, "green" aspects, advantages, products and accessories, assemblies, fire resistance and sound control, finish levels, and the Gypsum Association's purpose and publications.

The most widely used building materials are gypsumbased panel products: a.k.a. drywall, sheetrock, plasterboard, gypboard, etc. In fact, production and sales levels of gypsum board products are used as a barometer for determining the relative health of the entire construction industry.

A video presentation, articles of interest, and seminar booklet are included.

Note: This course satisfies HSW requirements.
Refund & Cancellation Policy
No refunds will be granted for withdrawal from any non-credit course on or after the first scheduled day of class. Withdrawal must be in writing. Telephone cancellations cannot be honored.
Price Guarantee
We promise that our prices are the same (or less) than prices on the school's website
Comprehensive
We centralize over 40,000 classes from vetted, high quality class providers
Verified Student Reviews
CourseHorse is the only place where you can read class reviews from verified students
Incredible Service
We're dedicated to supporting your learning goals every step of the way
Fast & Secure Checkout
Single-page checkout and powerful encryption make CourseHorse the place to book
We give you back 5% of every class purchase, to encourage you to keep on learning!
Start Dates (0)
Can't make these dates? Save to Wish List this class to find out first about new class dates.
Map
Questions about this class?
Get help now from a knowledgeable expert!
School: New York Institute of Technology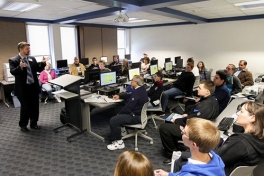 This school offers undergraduate, graduate, and professional degrees in more than 90 fields of study in architecture and design, arts and sciences, education, management, osteopathic medicine, computer science and engineering, among others. A non-profit independent, private institution of higher education,...
Read more about New York Institute of Technology »
| | |
| --- | --- |
| CourseHorse Approved School | This school has been carefully vetted by CourseHorse and is a verified NYC educator. |
Reviews of Classes at
New York Institute of Technology
(
3
Reviews)
Taking this class for work? Get exclusive perks & discounts for free.