Class Information
Class Level: All levels
Age Requirements: 18 and older
Average Class Size: 12
What you'll learn in this comedy class:
Learn mime choreography structures, Mime Illusions and Mime Acting Methods, as well as Physical Comedy phrases within the scene studies.

Beyond the Mime and Comedy that your will learn, these classes will also increase your ability to:

Separate your thought from your actions
Increase the power of your stage presence
Understand and compose comedy sequences
Create an invisible environment, people and objects
Make stronger stage entrances and exits
Make your movement and speaking more musical
Create a more powerful stillness and stronger physical gestures
Attire is casual workout or dance style clothing.
Ballet style shoes preferred, socks with the toes cut off, bare feet is also acceptable.
Teacher: Gregg Goldston and Haruka Moriyama
See Classes Taught by This Teacher »
Gregg Goldston has taught workshops across the globe while touring his One Mime Show. In 1980, he founded The Goldston Schools for Mimes, a two to six week Summer Intensive for Mime based in Gambier, Ohio. The School, which was later renamed The Goldston & Johnson School for Mimes. In 2008 Goldston created a second Summer Intensive based in Warsaw, Poland called The School for Modern Mime. Most recently, in 2013, he created his third program: The Goldston Moriyama Institute for Mime based at the Centro Jobel outside Rome, Italy. The Institute stages an exclusive three-week program for 10 performers from around the world.

Haruka Moriyama was born and raised in Japan where she studied contemporary dance as her central focus during her undergraduate studies. After training in theatre and dance in Japan, she moved to New York City to study at the Alvin Ailey American Dance Center and the Martha Graham School of Contemporary Dance.After years of dance performance, she found herself with the desire to find an art that was more expressive than dance. Consequently, in 2000, she discovered mime and immersed herself mime and physical comedy under Gregg Goldston in New York City.
Price Guarantee
We promise that our prices are the same (or less) than prices on the school's website
Comprehensive
We centralize over 40,000 classes from vetted, high quality class providers
Verified Student Reviews
CourseHorse is the only place where you can read class reviews from verified students
Incredible Service
We're dedicated to supporting your learning goals every step of the way
Fast & Secure Checkout
Single-page checkout and powerful encryption make CourseHorse the place to book
We give you back 5% of every class purchase, to encourage you to keep on learning!
Start Dates (4)
Teacher:
Gregg Goldston and Haruka Moriyama
Schedule:
Tue, Oct 07 6:30pm - 9:00pm

Location:
Midtown, Manhattan
257 W 39th St
14th Flr
Btwn 7th and 8th Avenues
New York, New York 10018
Map
Can't make these dates? Save to Wish List this class to find out first about new class dates.
Map
Questions about this class?
Get help now from a knowledgeable expert!
School: Goldston Mime Foundation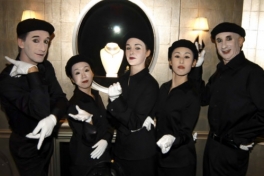 In 1975, Gregg Goldston saw a performance by Marcel Marceau and immediately began his pursuit of the art of mime. At that time, Gregg was 18 and had dreams of becoming a visual artist and although he loved making people laugh, he never imagined he would live his life on stage.

Born in Los Angeles,...
Read more about Goldston Mime Foundation »
| | |
| --- | --- |
| CourseHorse Approved School | This school has been carefully vetted by CourseHorse and is a verified NYC educator. |
Reviews of Classes at
Goldston Mime Foundation
(
1
Review)
Ready to take this class?
Book Online
Or call 212-729-4088
Taking this class for work? Get exclusive perks & discounts for free.