Class Information
Class Level: Beginner
Age Requirements: 21 and older
Average Class Size: 12
What you'll learn in this cheese tasting class:
Come explore the regions of France, taste some of the most exciting french cheeses from Herve Mons, and learn how to move through the world of French cheeses with grace and competence. Of course, there will be lovely pairings with classic French wines.

Laure Dubouloz,from Herve Mons- a french cheese distributor and affineur- will lead us through the world of French cheeses. She will explain the notions of terroir, affinage, and how to tell when a cheese is a point.



Refund & Cancellation Policy
72 hours notice is required for a refund, and 24 hours notice is required for any credit. Otherwise, you will forfeit your payment.
Teacher: Laure Dubouloz
See Classes Taught by This Teacher »
Laure Dubouloz comes from a family of French Affineurs beginning with her grandfather who built caves in the Savoie region. She has been a retailer of cheese on both French and International level.
Price Guarantee
We promise that our prices are the same (or less) than prices on the school's website
Comprehensive
We centralize over 40,000 classes from vetted, high quality class providers
Verified Student Reviews
CourseHorse is the only place where you can read class reviews from verified students
Incredible Service
We're dedicated to supporting your learning goals every step of the way
Fast & Secure Checkout
Single-page checkout and powerful encryption make CourseHorse the place to book
We give you back 5% of every class purchase, to encourage you to keep on learning!
Start Dates (0)
Can't make these dates? Save to Wish List this class to find out first about new class dates.
Map
Questions about this class?
Get help now from a knowledgeable expert!
School: The Homestead at Bedford Cheese Shop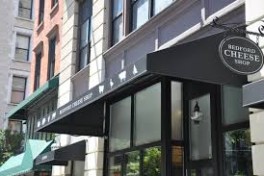 Established in 2003, the Bedford Cheese Shop has spent the last 10+ years building a neighborhood store that welcomes both new and familiar faces. Based on old-world ideals with a loyalty to our family of local and international food producers, we are a small, independently run business dedicated to...
Read more about The Homestead at Bedford Cheese Shop »
| | |
| --- | --- |
| CourseHorse Approved School | This school has been carefully vetted by CourseHorse and is a verified NYC educator. |
Taking this class for work? Get exclusive perks & discounts for free.