Class Information
Class Level: All levels
Age Requirements: 18 and older
Average Class Size: 20
What you'll learn in this business writing class:
In this class, you will master skills that are necessary in today's competitive business environment. You will learn to write and speak in a way that elevates you with increased confidence and enthusiasm.

Be a better and more confident writer.

Who Should Attend—All levels of professionals who want to maximize their efficiency, develop leadership skills, and increase their value.

You will be able to:

Gain greater awareness of your audience and how to communicate ideas more effectively;
Organize your writing, following guidelines for correct sentence structure, writing style, organization, and agreement;
Know and apply the rules of punctuation, spelling, and mechanics; and
Edit your own writing with confidence.
Refund & Cancellation Policy
Cancellation/Refund Policies:
No refunds will be issued.
If you reschedule 28 or more days prior to class start, there will be no charge.
If you reschedule 8-27 days prior to class start, there will be a 20 percent of class price rescheduling charge.
If you reschedule 7 days or fewer prior to class start, there will be a 50 percent of class price rescheduling charge.
If you do not attend a public class in which you enrolled and for which you have paid, and have not contacted Improving Communications in writing to provide notification and reschedule, all fees will be forfeited.
If you notified Improving Communications of your need to reschedule your attendance in a public class in accordance with the terms herein, unused, paid enrollment credit(s) for a that class may be used for up to one year past the date of the originally-scheduled class.
Teacher: Richard J. Atkins
See Classes Taught by This Teacher »
Dr. Richard J. Atkins is the Managing Director of Improving Communications, a New York-based corporate training firm that offers Business Writing, Public Speaking, Customer Service, Leadership & Management, and U-Based™ Sales training. Rich is a member of the Society for Human Resource Management (SHRM). He currently serves as the Chair of the Orientation Committee and the Co-Chair of the Career Planning & Professional Development Special Interest Group for the Human Resources Association of New York's (HR/NY). Rich is American Management Association (AMA)-certified faculty and is also a Vistage-certified speaker. Dr. Atkins also presents frequently throughout the nation on the concept of MEDIA TERRORISM™. He has been a guest panelist on News-12's Jobline, and has been quoted in articles appearing in South Florida's Sun-Sentinel, Long Island Business News, and the Erie Times-News. His doctoral research on canine learning styles was the subject of an article titled "One Size Does Not Fit All" in the March 2006 issue of Dog Fancy Magazine.
Price Guarantee
We promise that our prices are the same (or less) than prices on the school's website
Comprehensive
We centralize over 40,000 classes from vetted, high quality class providers
Verified Student Reviews
CourseHorse is the only place where you can read class reviews from verified students
Incredible Service
We're dedicated to supporting your learning goals every step of the way
Fast & Secure Checkout
Single-page checkout and powerful encryption make CourseHorse the place to book
We give you back 5% of every class purchase, to encourage you to keep on learning!
Start Dates (5)
Teacher:
Richard J. Atkins
Schedule:
Mon, Dec 08 9:00am - 5:00pm

Location:
Murray Hill, Manhattan
369 Lexington Avenue
2nd Floor
Btwn E 40th & E 41st St
New York, New York 10017
Map
Can't make these dates? Save to Wish List this class to find out first about new class dates.
Map
Questions about this class?
Get help now from a knowledgeable expert!
School: Improving Communications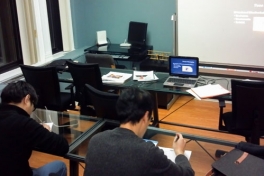 Do communication problems waste your time and money?

Improving Communications provides written and spoken Communication Skills trainings. Working with individuals and businesses, this New York-based corporate training firm offers Business Writing, Public Speaking, Customer Service, Leadership,...
Read more about Improving Communications »
| | |
| --- | --- |
| CourseHorse Approved School | This school has been carefully vetted by CourseHorse and is a verified NYC educator. |
Reviews of Classes at
Improving Communications
(
1
Review)
Ready to take this class?
Book Online
Or call 212-729-4088
Taking this class for work? Get exclusive perks & discounts for free.