Class Information
Class Level: All levels
Age Requirements: 21 and older
Average Class Size: 20
What you'll learn in this beer and cheese class:
From lambics and stinkers to guezes and chevres, we'll explore all of the pairings that make you pucker up with delight.

Smack! Racing adicity and wild fermentation mark this pairing event as something special.
Refund & Cancellation Policy
All tickets to Murray's Cheese classes are nonrefundable and non-transferable to other dates. If you wish to transfer these tickets to an alternate party, please send us written communication to
[email protected]
prior to 4:00 pm on the day of the cheese course. Tickets cannot be transferred to an alternate class date
Price Guarantee
We promise that our prices are the same (or less) than prices on the school's website
Comprehensive
We centralize over 40,000 classes from vetted, high quality class providers
Verified Student Reviews
CourseHorse is the only place where you can read class reviews from verified students
Incredible Service
We're dedicated to supporting your learning goals every step of the way
Fast & Secure Checkout
Single-page checkout and powerful encryption make CourseHorse the place to book
We give you back 5% of every class purchase, to encourage you to keep on learning!
Start Dates (0)
Can't make these dates? Save to Wish List this class to find out first about new class dates.
Map
Questions about this class?
Get help now from a knowledgeable expert!
School: Murray's Cheese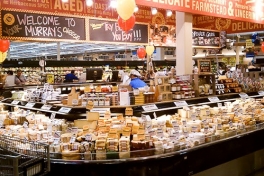 The History of New York's Oldest and Best Cheese Shop: Murray Greenberg (never met him; he died before I got here) was a Jewish Spanish civil war veteran and communist who opened a wholesale butter and egg shop a few doors up Cornelia street in 1940. The old timers tell me that even though he was an...
Read more about Murray's Cheese »
| | |
| --- | --- |
| CourseHorse Approved School | This school has been carefully vetted by CourseHorse and is a verified NYC educator. |
Taking this class for work? Get exclusive perks & discounts for free.