Class Information
Class Level: Beginner
Age Requirements: 18 and older
Average Class Size: 8
What you'll learn in this basic portuguese class:
Full 20 Hour Course: This class provides an introduction to Portuguese pronunciation, basic grammar, reading, simple composition and conversation.

Recommended for students who have no knowledge or understanding of the language and its grammar, and have a very limited vocabulary.

Upon completing the course successfully, students should be able to:

Understand simple spoken Portuguese
Relate Portuguese sounds to their written forms
Pronounce simple Portuguese text accurately
Demonstrate a knowledge of basic Portuguese grammar
Write simple sentences about themselves, using present and future, and employing a basic vocabulary
Note: Classes may be offered in a 5,7 or 10 week class. Purchase includes a $30 Basico 1R Material Fee.
Refund & Cancellation Policy
Refunds less a 10% administration fee will be issued only with a written notice at least 3 days prior to the first day of class. Withdrawals or requests for a refund may not be made by telephone. Please note that absence from class does not constitute notice of withdrawal. If for some reason the student is unable to continue attending the course after the first day of class, we will charge for the first day of class and refund the remaining credit by check. However, there is no refund available after the second day of class. Also, there are no refunds or credits for missed workshops.
Teacher: Brazil Ahead Instructors
See Classes Taught by This Teacher »
Diana Seabra, Daniela, Gleice, Josiane, Lucilla, Fernanda, Luciana, Tais, Monica, Debora, Monica Schmidt.
Price Guarantee
We promise that our prices are the same (or less) than prices on the school's website
Comprehensive
We centralize over 40,000 classes from vetted, high quality class providers
Verified Student Reviews
CourseHorse is the only place where you can read class reviews from verified students
Incredible Service
We're dedicated to supporting your learning goals every step of the way
Fast & Secure Checkout
Single-page checkout and powerful encryption make CourseHorse the place to book
We give you back 5% of every class purchase, to encourage you to keep on learning!
Start Dates (2)
Notes:
Price includes $30 material fee.
Teacher:
Brazil Ahead Instructors
Schedule:
Mon, Oct 06 6:30pm - 8:30pm
Mon, Oct 20 6:30pm - 8:30pm
Mon, Oct 27 6:30pm - 8:30pm
Mon, Nov 03 6:30pm - 8:30pm
Mon, Nov 10 6:30pm - 8:30pm
Mon, Nov 17 6:30pm - 8:30pm
Mon, Nov 24 6:30pm - 8:30pm
Mon, Dec 01 6:30pm - 8:30pm
Mon, Dec 08 6:30pm - 8:30pm
Mon, Dec 15 6:30pm - 8:30pm

Location:
Midtown East, Manhattan
380 Lexington Ave
17th Flr
Btwn 41st & 42nd Streets
New York, New York 10168
Map
Can't make these dates? Save to Wish List this class to find out first about new class dates.
Map
Questions about this class?
Get help now from a knowledgeable expert!
School: Brazil Ahead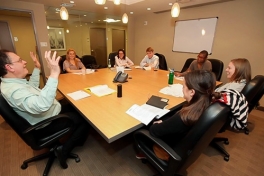 If it is Portuguese language or Brazilian culture, your success is our goal!

Brazil Ahead is dedicated to provide the most effective yet enjoyable Portuguese language instruction in New York City, Jersey City, São Paulo, Rio de Janeiro and online world wide. In addition to offering Portuguese courses...
Read more about Brazil Ahead »
| | |
| --- | --- |
| CourseHorse Approved School | This school has been carefully vetted by CourseHorse and is a verified NYC educator. |
Ready to take this class?
Book Online
Or call 212-729-4088
Taking this class for work? Get exclusive perks & discounts for free.