Class Information
Class Level: Beginner
Age Requirements: 18 and older
Average Class Size: 12
What you'll learn in this basic arabic class:
Level 1 is taught in English and is for those who want to start at the very beginning with Arabic or for those who took a little bit of Arabic but are still struggling with the alphabet. If you've never taken a language class before, don't worry – we will walk you through the basics and explain verb conjugations, vocab learning tips, etc.

If you know the alphabet and can struggle through saying things in Arabic like: "My name is...", "Hi, how are you?", "Nice to meet you" then you should check the Level 2 descriptions to be sure a Level 2 class isn't more appropriate for you.

Not totally ready for Level 2 but don't want to start at the beginning? We recommend taking a few hours of private lessons and/or a Bridge Workshop to review Level 1 material.
Refund & Cancellation Policy
Class transfer or cancellation/refund requests must be made at least 7 days prior to your class start date. After this date, refunds cannot be given under any circumstance and we can't allow you to transfer your tuition to a different class.
The cancellation policy for private and makeup lessons is as follows: 24 hour notice is expected for cancellation of any weekday (before 6pm) lessons. Otherwise, you will still be charged. Weeknight (after 6pm) or weekend private or makeup lessons cannot be cancelled.
Teacher: Our Professors
See Classes Taught by This Teacher »
All our professors are young, fun, passionate and really good at what they do. We usually have teachers that are not native speakers teaching lower level classes on purpose because our theory is that someone who has gone through the experience of learning the language themselves can explain it better to you. We usually have native speakers teaching higher-level classes to help you perfect it. These awesome teachers know how to help students understand the language in a way that gets them conversational as soon as possible.
Price Guarantee
We promise that our prices are the same (or less) than prices on the school's website
Comprehensive
We centralize over 40,000 classes from vetted, high quality class providers
Verified Student Reviews
CourseHorse is the only place where you can read class reviews from verified students
Incredible Service
We're dedicated to supporting your learning goals every step of the way
Fast & Secure Checkout
Single-page checkout and powerful encryption make CourseHorse the place to book
We give you back 5% of every class purchase, to encourage you to keep on learning!
Start Dates (2)
Teacher:
Our Professors
Schedule:
Sat, Oct 18 12:30pm - 3:00pm
Sat, Oct 25 12:30pm - 3:00pm
Sat, Nov 01 12:30pm - 3:00pm
Sat, Nov 08 12:30pm - 3:00pm
Sat, Nov 15 12:30pm - 3:00pm
Sat, Nov 22 12:30pm - 3:00pm
Sat, Dec 06 12:30pm - 3:00pm
Sat, Dec 13 12:30pm - 3:00pm

Location:
Williamsburg, Brooklyn
143 Skillman Ave
Btwn Manhattan & Graham Avenues
Brooklyn, New York 11211
Map
Can't make these dates? Save to Wish List this class to find out first about new class dates.
Map
Questions about this class?
Get help now from a knowledgeable expert!
School: Fluent City New York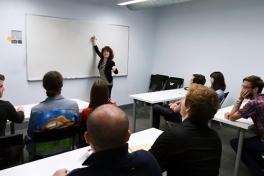 Fluent City offers awesome afterwork foreign language classes for adults. Learn to speak a language in a laid-back environment with ridiculously good teachers Time Out describes as "the kind of dreamy, young cosmopolitans that got you interested in languages in the first place." Choose French, Spanish,...
Read more about Fluent City New York »
| | |
| --- | --- |
| CourseHorse Approved School | This school has been carefully vetted by CourseHorse and is a verified NYC educator. |
Reviews of Classes at
Fluent City New York
(
4
Reviews)
Ready to take this class?
Book Online
Or call 212-729-4088
Taking this class for work? Get exclusive perks & discounts for free.